This post is not meant to bash any brand, nor promote any brand. This is simply a post showing what I found today when cutting open shells. I always make a post and show what I find for people who want to know what is inside but dont want to cut open a shell and waste money.

Now. Lets talk info.
1st shell cut open was an xpert 3" 1 1/4 #2. You can see that none of the shot is round, and quite a bit of it is off sized. Some of it is even a different color, not sure what this is about.. maybe my shell got wet somehow. No "welding slag" in this one, all are shot shaped. The wad in the xpert is the same wad that was in the drylok. Sort of flimsy and pretty thin, however not as thin as a lead shot wad. There is a gas seal below the wad.
2nd shell is a winchester super-x drylok 3" 1 1/4 #2. You can see that the shot is pretty much all the same size, some of it is slightly off but not enough to be considered anything bigger or smaller. A few of them are not round and have dimples. There was also two pieces that were completely flat on two sides. I have never seen this in any shell so I took a good picture. Same wad as xpert, also a gas seal below it.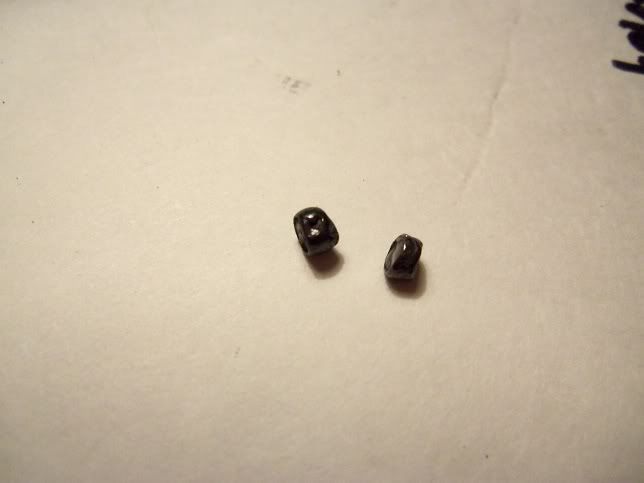 3rd shell is a federal speed-shok 3" 1 1/4 #4. When I cut open this shell the shot spilled onto my counter, but I think I retrieved all of the shot. This should be noted though, because there might have been something in there that was off and I lost it. All of the shot is perfectly round, and all of it is #4 sized. It also has a darker color to it (not plated shot), not sure why that is. The wad in this one was surprisingly thick. Very thick actually, if I had to guess probably twice as thick as in the winchester wads. Not sure if this makes any difference in the shell quality, but it surely would help with keeping the steel off the barrel. No gas seal below the wad, the gas seal is built into the wad.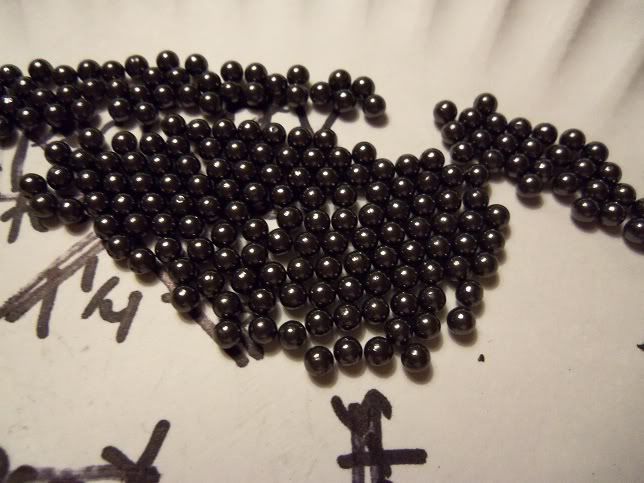 I cut this one open a while ago, thought I would add it to the topic. Xpert 3" 1 1/4 #1. No round pellets, a few tiny (not as much as the #2), and the same green wad.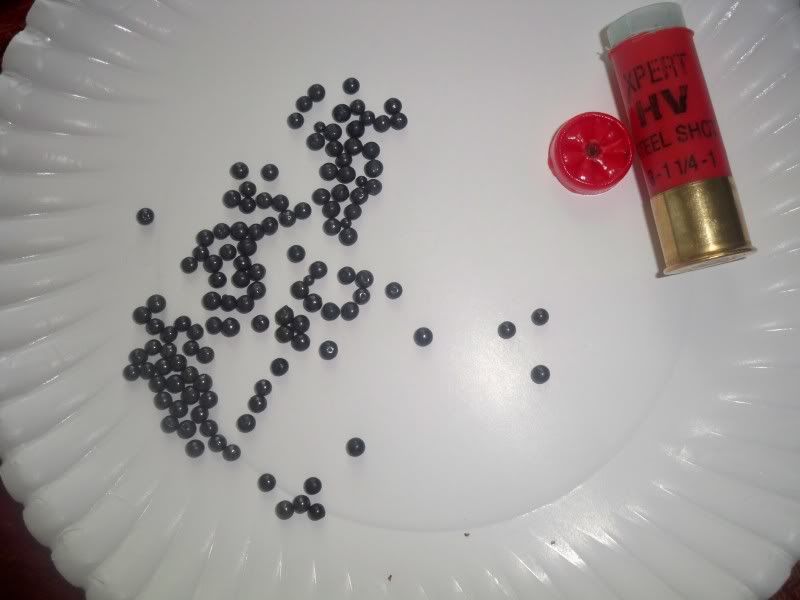 Thanks for reading, and dont hesitate to post what you think. I think I have been fair and posted all the facts as I found them. I will do another post like this with the next shells I cut open and show what I find.
_____________________________________________________________________
This is cannon's info regarding wads found in shells. I thought it was very good info so I added it to the top.
cannon wrote:

Left to right:

1. Bismuth Cartridge Co. Used lead-type wads and, in my experience, sucked.

2. Baschieri & Pellagri. Used in Kent shotgun shells. Thin plastic walls. Typically work well in mobil-choked guns such as 390's, SBE's, etc. IMHO, these are the most "neutral" wads available, i.e., they will seal well in overbored barrels and yet don't blow patterns with standard bores. They tend to give solid patterns across the board. Not the best patterns, but not the worst, in almost any shotgun.

3. LBC 43. Reloaders only. Thin walled with cocentric horizontal rings ensure a good seal.

4. Estate. Uses the same thick plastic wads you'll see in Fed's. Tends to be easier to find decent patterns in an overbored gun.

5, 11. Winchester DryLok. Use a two-piece wad with a flat-bottomed shotcup and a separate gas seal.

6. SAM I. Reloading Specialties wad that uses vertical ribs to reinforce the very thin plastic. Typically runs low pressures and fast loads, and they tend to produce excellent patterns in standard bored (especially italian) guns.

7. TUPRW 12. Precision Reloading's wad. Thick plastic, very similar to Fed, Estate, Remington, etc.

8. Kent Cartridge. See #2, above. Note the presence of a LARGE volume of rust in the wad. These shells DON'T like water, period.

9. Remington. Very similar to Federal and Estate offerings. Also closely resembles the TUPRW 12 (above) and the Ballistic Products Multi-metal (below). Good in fat barrels.

10. Ballistic Products Multi Metal. Thick plastic wad. Differs from all of the above because the shotcup is tapered from its mouth to the base where it meets the gas seal, resulting in a somewhat diminished capacity. Again, loved by fat barrels everywhere. My 390 and my wife's Xtrema 2 hate 'em.

11. DryLok. See #5, above.

12, 13. Federal Black Cloud and an after-market clone. I haven't been able to work up a load that patterns worth a hoot in either.
________________________________________________________________

Info from JuniorPre 360
JuniorPre 360 wrote:

I'm sure that these pictures are so big. I tried to resize them but after waiting for photobucket's ads to load, slowing down my uploads, I didn't want to waste more time and resize them.

I opened one shell from the case I bought this year and one shell I had in my waders from last year. Anyways what I found was the shot is all pretty much the same size. I know in the picture most of them look lop-sided. That might be because the picture was taken so close, or they're shiney, the shot's shadow, or whatever. They aren't way bad but they are just a little mis shapen. But they will still roll around in the bowl. Seeing this doesn't really worry me about not killing ducks anymore. I don't regret buying 2 cases but I may look into Fedrals next season. Oh, the wad looked like it was normal thickness. Any thicker and I think you wouldn't be able to fit more shot in it. But I'm not way familiar with this. You can see in the second pic the wad is a little transparent.
Hatchbox90 wrote:Here goes nothing, this thread made me want to look inside of some hevi shot I recently purchased for patterning, so I cut 2 shells open. There is a mixture of flax seed in the shot along with what feels like silicone pellets(very small.) Those 3 things make up whats inside of the wad. I didn't remove the wads and inspect them for thickness, I also do not have a digital scale to weigh the shot. I did weigh the 1 3/4oz shot on a scale my wife uses for cooking and it came out to about what the payload says on the shell.

Now for pictures, ignore the #4 hevi goose on the plate, the first photos will be a 3" 1 1/2oz hevi goose in 2 shot

first picture is the flax seed and the silicone? not exactly sure what it is. sorry for cell phone pic on this one

second picture is of the shot shape, VERY few of the pellets were actually round, most of them had "welding slag" on them

proof of shell dissection :)

Here is the 3 1/2" #4 shot in 1 3/4oz, this had less odd looking pellets, but also had very bad "welding slag" on most of the pellets

I didnt count the pellets in the 3" shell, the 1 3/4oz had about 230 pellets.

Maybe these can kill soo well because of the shape of the pellets, or Maybe EM doesn't figure somebody will cut open a $4.50 shell just to look at it :(
eastcoastsoxfan wrote:Only factory shell I could find. Rem 3" 1 1/4oz #2

Heres the plastic beads they use as a spacer

shot and beads in hand. the shot is really nice, everything round.

weight of shot 523.8 grains kinda short!

weight of shot and beads 538.8 grains

and the wad

not impressed by the weight! but shot looks quality