For in case you may be wondering why some of these are being relisted, I had 2 guys on other sites back out—they stood me up on sending the $. :pissed:
All prices are without shipping (which is extra). Combine like items to save on shipping. I ship Fed Ex ground which is the cheapest shipping price for you.
PM me to contact me.

ATV:
1984 Honda 200s 3 wheeler. I have not tried to start it for the last 4 -5years, it is just sitting under a cover. It used to run real well. But being I have not tried to start it, no gaurantees it'll start, especially in this cold weather. It has a front metal tool box and the rear wood box needs to be replaced--it is mounted on a metal rack. It has whooley boogers for rear taires (real aggressive) it is a chain drive as I recall $375. as is.
ATV Trailer. Same over all tire width as the above ATV. About a 3'w x 4'l x 1' high metal box mounted on springs and has a trailer tongue hitch at front. It has ATV wide tires on it. $125 And will only sell it with the ATV.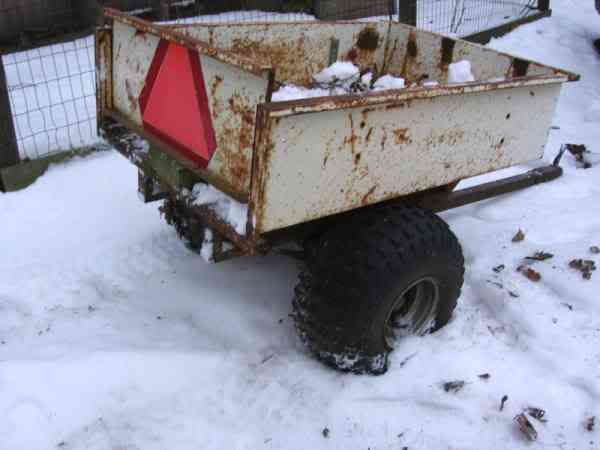 Buy both and I'll throw in a good ATV helmet.
I will not ship the ATV/trailer

Duck decoys:
1 dz Mallard brand new Real Geese(Webfoot) brand, silhouettes. New is $260, sell for $175
4 packages of 6oz lead decoy straps, 6 per package, they are new in package, $4 each package. Water Gremlin is the brand and they sell for 5.29 ea new
G&H website for reference.
http://www.ghdecoys.com/
3 Black ducks, G&H super mag size with swivel heads, brand new, just been sitting on the shelf. New is $50, sell for $35.
4 Canvasbacks G&H super mag with swivel heads, brand new also. 3 drakes, and 1 hen. New is $67, sell for $55 being mostly drakes.
6 Bluebill (Scaup) super mag with swivel heads, G&H, brand new, 2d and 4h New is $100, sell for $70
13 Redheads, G&H super mags with swivel head, used but in excellent condition, 7d & 6 h, new is $217 + the Tangle free line and long line clips, sell for $155
Goose decoys:
Real Geese website for reference
http://www.webfootdecoys.com/
2 dz Real Geese (Webfoot) Canada pro series brand new silhouette decoys. 1 side is no shine fabric. New is $260, sell for $200.
2 dz Real Geese (Webfoot) Canada Pros series, used but in excellent condition. 1 side is no glare fabric. New is $260, sell for $175.
Dog Vest
Brand new Cabelas 2XL Dog vest with deluxe chest protector in Advantage wetlands camo.
Neck under 22", chest 32" and under, stomach 28" and under.
New is $35, sell for $25. I had bought for my dog last year winter, but he died and my pup will not be a 2XL, thus selling.
Radios
Pair of Motorola Talkabout T5200 2 way radios, These are hardly been used, so in great shape, new is $72, so how about $35. Click here for specs
http://www.ewirelesspro.com/mot5motara.html
------
The only trades I'd be in interested in are as follows: Dokken Duck training dummies; FA Top Gun/Pro Guide blind in pure white Snow cover; Pattern Master extended full for Invector + (Browning, WinSX2, etc).