So my buddy and I picked the hottest freaking day of the year to do this test yesterday. Something about the hot weather gets me fired up for hunting season. We took 19 different types of shotgun shells that guys I hunted with the past year used. We had 2 of each shell to reduce human error. I shot one of each, and he shot the other, both using my Mossberg 935. We had a 20''x16'' sheet of insulation for each shell type hanging on the sign. Behind the sign was a telephone book to test the penetration power of each shell.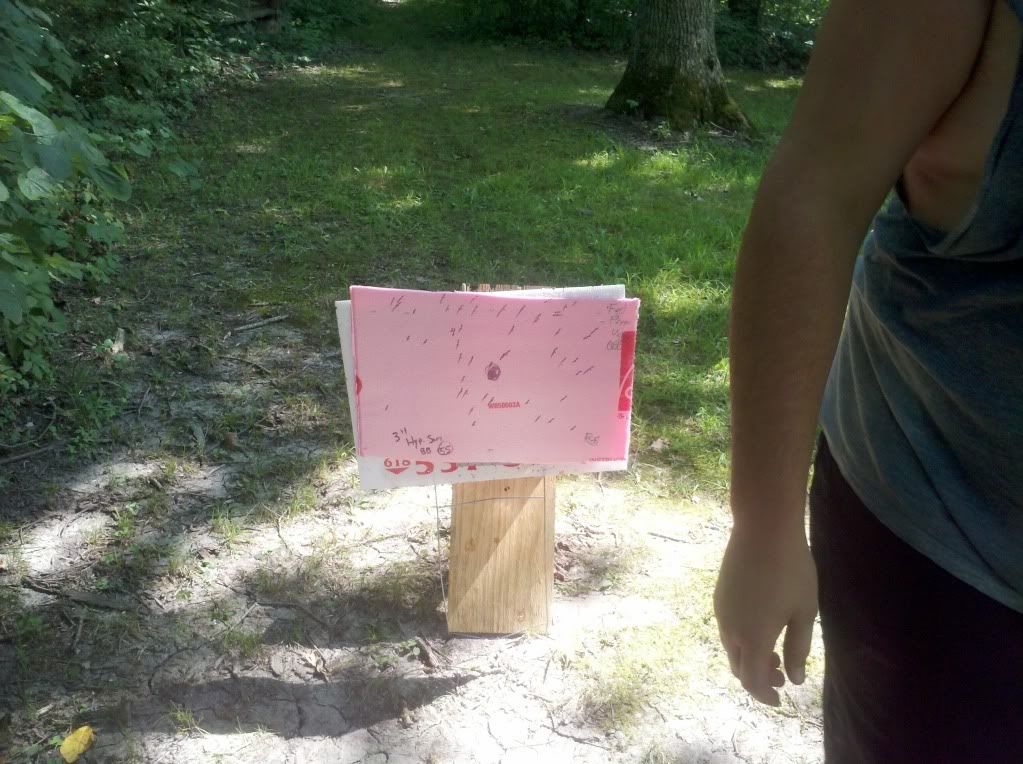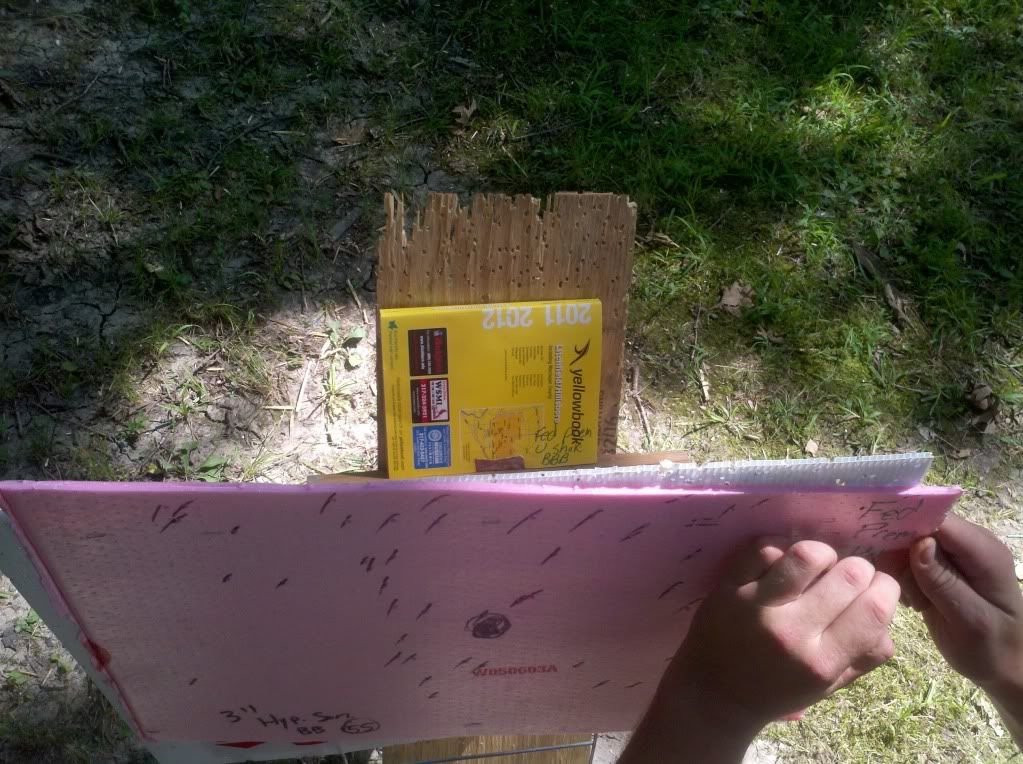 On the second shot of the Black Cloud 3.5 inch BB it looked like most of the pellets stayed together and did as much damage as a slug going through the entire phone book. Neat, but not necessarily a good thing.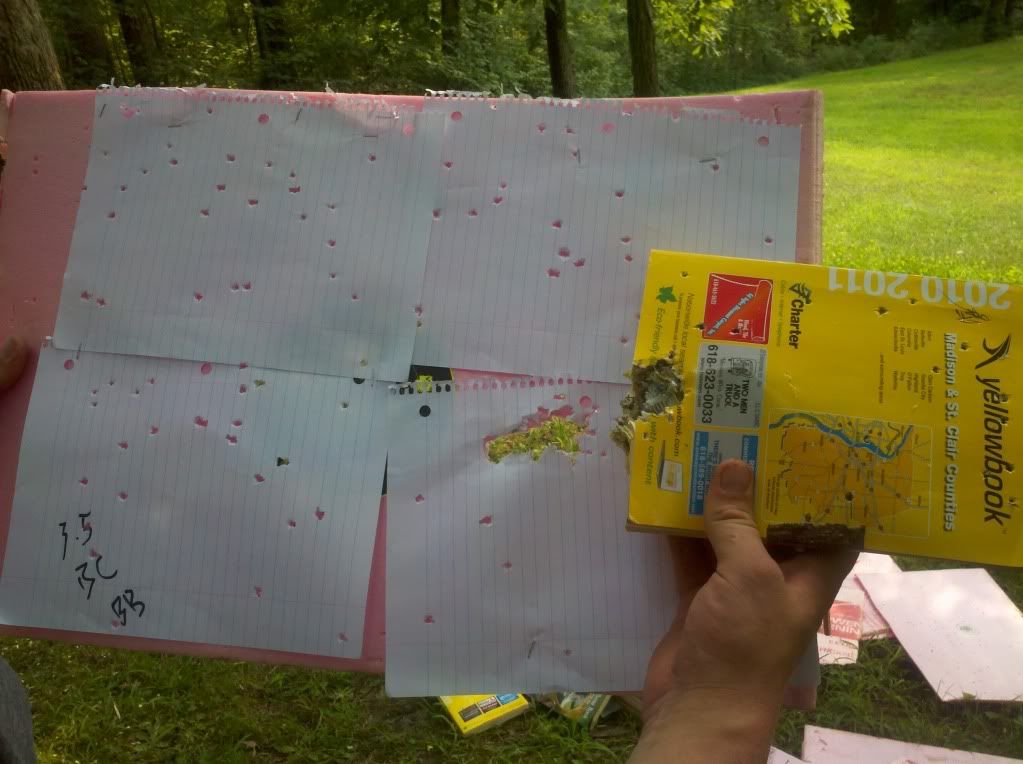 .
Overall rule of thumb is you get what you pay for. I have done the pattern text 2 other times and that has held fairly true. Experts are junk! The exception to the rule is the Remington Sportsman. It is one of the cheapest, but every time I have done this test (with 3 different guns) they have been at the top. Remington shells overall seem to be very good for regular steel.
The Heavy Metal and Black Cloud did very well as far as the numbers go, but there was a clear difference between the damage they did to the phone book. Not just the number of pages they went through, but the destruction of phone book. Obviously the BBB, and T shot also had some bigger holes as well.
Here are the results: (The first number is how many pellets, the second number is how many pages of the phone book it went through.)
Type Pattern/Penetration
3 inch Black Cloud #2 - 109/343
3 inch Heavy Steel #2- 124/477
3 inch Remington sportsman 2 shot- 160/340
3 inch Remington Hyper Sonic #2- 89/404 (PhoneBook had thick color pages)
3 inch Winchester Expert BB- 84/439
3 inch Heavy Metal BB- 100/615
3 inch Federal Speed Shock BB-49/410
3 inch Hyper Sonic BB- 55/1038
3 inch Remington Nitro Steel BB- 98/494
3 inch Federal Premium Ultra Shock BBB-75/598+ (Went through entire book!)
3 inch Nitro Steel T Shot- 80/852
3.5 inch Black Cloud #2- 144/438
3.5 inch Sportsman #2- 93/429
3.5 inch Black Cloud BB- 98/887 (not including wad shot)
3.5 inch Winchester Supreme BB- 82/579
3.5 inch Heavy Metal BB- 102/684
3.5 inch Experts BB- 51/490
3.5 inch Nitro Steel BB- 149/517
Average Penetration score- 575.8
Average Pattern Score- 97
Average pattern score from 3 inch- 90.3
Average Pattern score from 3.5 inch- 102.7
Average Penetration Score from 3 inch- 583.6
Average Penetration score from 3.5 inch- 584.1
Average #2 penetration- 407
Average BB penetration- 504
Average #2 pattern- 119.8
Average BB pattern- 83.8
BBB Shot Score- 75/598
T Shot Score- 80/852
2 3/4 inch Score- 131/421
Best 3 inch Penetration- Remington Hypersonic BB
Best 3 inch Pattern- Remington Sportsman #2
Best 3.5 inch Penetration- Black Cloud BB
Best 3.5 inch Pattern Remington Nitro Steel BB
Worst 3 inch Pattern- Federal Speed Shock BB
Worst 3inch Penetration- Remington Sportsman #2
Worst 3.5 inch Penetration- Remington Sportsman #2
Worst 3.5 inch Pattern- Winchester Expert BB
In the next few days I am going to place my order for a case of 3.5 inch Remington Nitro Steel BB for my trip to North Dakota in October.
__________________