Goose decoys (shells).............. They will give you more bang for you buck on geese than duck decoys will.. With the excption of early goose season, I have rarely hunted geese and not had duck pour into the decoys.
Click to play video....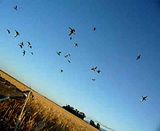 I scouted this field 4 times and never saw a duck on it until this day. I estimate there were 500 duck that landed in my decoys and season wasn't open yet.