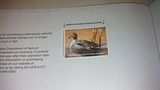 I've been getting a pictorial stamp since I was 16, I think there important to the state.
Funds raised through the sale of Mn state stamps pay for waterfowl research, management and habitat.
If you didn't get one this year, think about it next year. Pass it on to your kids or someone else for a keep sake.