The Mississippi Flyway Rambler 2011, "The Deputy" 542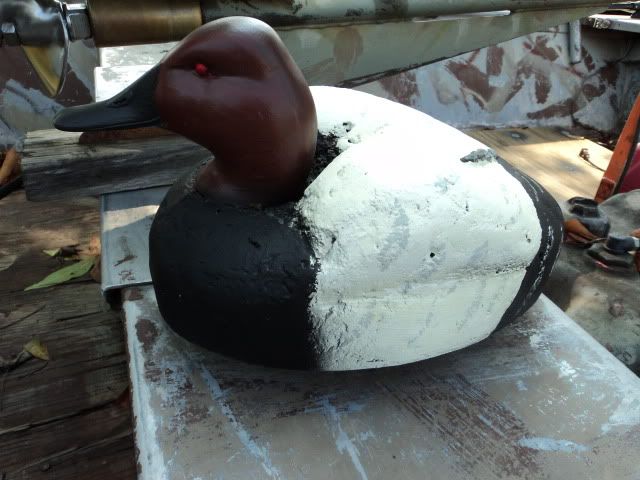 O.K. guys, Time to start sending this deek up and down the Miss. Flyway... I'm going to mail it out to blackcloud this week.
Link to the sign-up thread:
http://www.duckhuntingchat.com/forum/viewtopic.php?f=4&t=156239
Here is the schedule as it stands right now (changes might happen as final seasons are posted.
Check in regularly
so that you can be aware of changes if they happen!!)
Sept.
1-2

Blackcloud870 & group-flexible, anytime, Illinois N. zone Oct. 15th - Jan 7th, Cen. zone Oct. 22 - Jan 31st


7ish-14

Huntall6-Illinios then Papachessie-Indiana for early geese


19-25 jaysweet3 road trip to Canada Sept. 19th - oct. 1st.

Oct.
1-2 Chris Hustad any of the first 4 weeks in Oct.
8-9 Labhuntr- Wisconsin
15-16 Wisconsinwaterfowler-Wisconsin Southern Zone-Oct. 1 at 9 a.m.-Oct. 9, and Oct. 15 –Dec. 4
22-23 Big River-Minnesota
29-30 HNTFSH (Ohio) on the plond- possibly dec. 31/jan.1 or sometime in Nov.??

Nov.
5-6

Jehler & group (Jgun...) Michigan Last week oct.- end of Nov.


12-13 *Rick Hall, flexible whenever-sub in, Louisiana(unless someone else wants to hunt with it, Rick will bow out)
19-20

Goodkarmarising & (TomKat, MOHuntingGuy, NJGilbert) Missouri North zone ~(Oct.29-dec 30),flexible in Nov.


26-27 WTN10 in Arkansas

Dec.
3-4

Cujo1 & (Huntall, Spatrick, coh-brook, +1 more), Southern Illinois Nov. 12 – Jan. 10 and Nov. 24 – Jan. 22


10-11

Possumfoot +the Inda Bros.-TENN.


17-18

Inda Bros./bayouboy/jasonphoto01....possibly indamarsh-Louisiana


24-25

Lostpup and 5 DHC members in TENN. (Hunt- Chessies, FL, Idukhunt IL, Patrickcarrington MI, +2 others)


31-jan.1

13space82 & (Ramsey84, threeshots, and possibly lablover0929)- Kentucky



Jan.
7-8

Cannon & 4-5 DHC guys, Arkansas anytime between Dec. 26 and Jan 16


14-15 bmoy1920 Arkansas/Tenn.
21-22 Cartervj-Alabama late Dec/jan.
28-29 teamoutlaw/wratlifky-Kentucky late Dec. or Late Jan.

Feb.
4-5 **Possumfoot, Juvi hunt/Late season Speck hunt(unless someone else new wants it)
11-12 Inda Bros. Conservation Snow goose hunt-Mississippi..sometime in Feb.(unless someone else wants it-speak up if you do!)
18-19 Goodkarmarising Cons. Snow goose hunt-Missouri...sometime feb.-march
25-26
March
3-4
10-11
17-18
.......till conservation goose season ends.
O.K., here are the ground rules...
1. Contact the guy that is to have the deek before you to make mailing arrangements and send him your address. The deek will be shipped out on Mondays, received by the next guy in line on prob. thursday to give him time to hunt over the deek on the weekend (with the exception of Jaysweet on his Canada trip-Papachessie will mail it out so he has it for the 19th ). Please try to ship it out before 10 am and keep in touch with the next guy in line to work things out between each other. It's up to you if you want to overnight the deek. some have offered to do this for when the deek is traveling some distance, and around the holidays to ensure the deek gets there in time.
2. Try and schedule a hunt with fellow DHC members in your area so that more people can hunt over the deek. You do not have to take them to your #1 honey hole if you do not want to. pick a public marsh if possible and have fun with it.
3. A journal will be sent around with the deek. write down a story about the hunt with the deek. The deek will be mailed back to Dave @ Church decoys at the end of the season. We can vote on if we want to send the journal with it or not.
4. Take plenty of pics.!! We want to see the landscape the deek is hunted in so let's see it floating in your spread (or in the filed for you goose hunters..
) We expect a post on this thread about your hunt and we want a tally of birds. Please put this at the top of your post so we can add it up as we go.
5. A paint pen will be provided with the deek so everyone that hunts with the deek can sign the bottom of the deek-please don't loose it.
WRITE SMALL!!
a lot of people need to sign the deek, try to take up as little room as possible. Thanks!
4. As most of you know, I had a mojo bag made up by the Voodoo Lady. The bag will be sealed with a zip-tie.
DO NOT OPEN THE BAG!
The instructions will be included in the box with the deek-written on the first page of the journal, follow them and keep the mojo going.
5. A box is included with the deek for tokens from the hunt. Throw in something memorable from the hunt and unique to your state.
Please do not put full wings or any parts of the flesh from birds in the box, it will start to stink bad
! Feathers are fine, if that is what you want to add. Just find something unique if you can...
6. Have fun! Here's to a memorable season, and Full straps...now lets go bust some caps!!