So I spent the weekend hunting on the Gustine Gun Club with a great guy. Met some other great people there also. To say it was fun would be an understatement. Totally different way of hunting at least for me. There were so many different kinds of birds flying around. We pretty much see all the same kinds of ducks as they have but just not in those numbers or plumage. So....
Day 1..
Got set up in a blind that is known for producing cinnimon teal. Thick stands of tule reeds, pretty much cover this area. Also it was so foggy you couldnt see 50 yards. At legal they hit this fire siren that you can hear for miles. So the siren goes off and my host Scott goes get ready. Im like "dude I couldnt tell a teal from a coot right now, let alone a drake". He laughed. So birds are flying all around us in the fog, you can hear them and suddenly they pop out of the fog and poof the're gone. About 15 min after legal, it gets a little lighter and I can make out species at least, and we start shooting. I'll say right now, this was way tougher than any duck hunt Ive done in MT. LOL You had maybe 5 sec to see the bird, get on it and shoot. I was further handy capped by trying to only shoot cinnimon drakes...lol. We got going were popping birds pretty regular and finally it started to clear up. But then we had another problem, this blind faced due east and when the fog lifted we were looking into the blazing sun. Making it tougher than in the fog. Had a couple of mallards swing in and he said take them, I laughed and said they were ALL his. Got down to the last couple ducks and a group of cinnimon crossed in front, right through the sun. I pulled up and THOUGHT I was on a drake and maybe I was, those buggers are fast like teal all over the place. I touched one off and swung on another, but as my first was dropping I was like crap that looks like a hen, we both teamed up on a drake that dropped dead. So Scott sends the dog for the drake and goes out to help it find the second that Im pretty sure is a hen. They find it and he laughs and goes its a hen when he get to the blind and hands it to me Im like no way!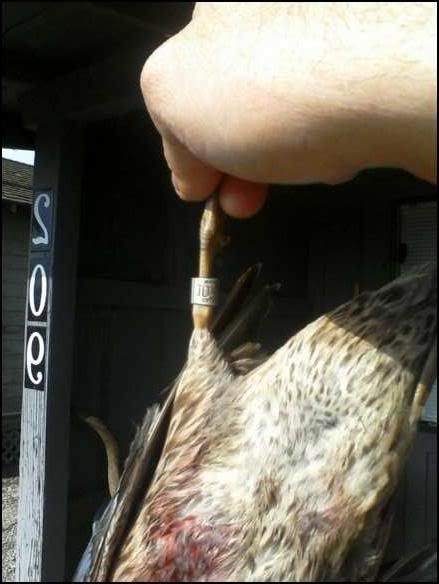 Then it got real warm and things slowed down, Only had one crack at a drake spoon on the first day and made it count, but he wasnt really a mounter.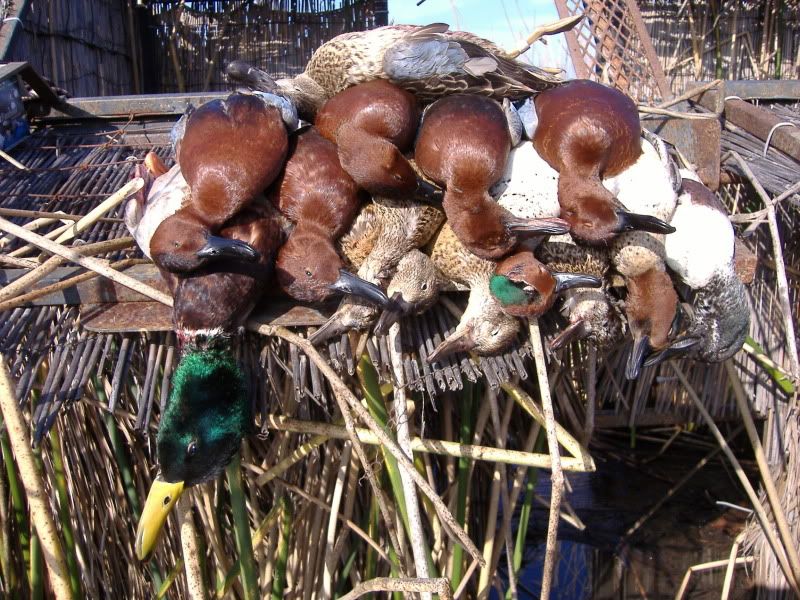 We went in and cleaned up and had a couple drinks and got ready for a CA waterfowl Association dinner they were having at the clubhouse that night. WOW what a spread. They had a local treat called sweet breads that sounded good and I agreed to try one. It tasted good for fried cow hypothalamus AKA part of a cows brain. They had a bunch of other stuff and the main course was great, my prime rib was like 2lbs. I actually couldnt finnish it. LOL There was some drinking also.
Day 2
We drew a blind known as a "super", basically a blind where the dekes stay out and the'res a hundred or so, that was famouse for spoonies. I dont know how, but it was way foggier than day 1. You couldnt see anything past 20 yards for the first 30-40 min then you could maybe see 30-35. No way you could pick out a drake anything past 20-25 though. At no time in the morning was I able to see all the decoys in the spread. There could have been 100 or 1000 in the spread, I dont know. LOL
The spinners are 10 yards from us. Furthest decoys you can see are maybe 25 yards. The fog got thicker up off the water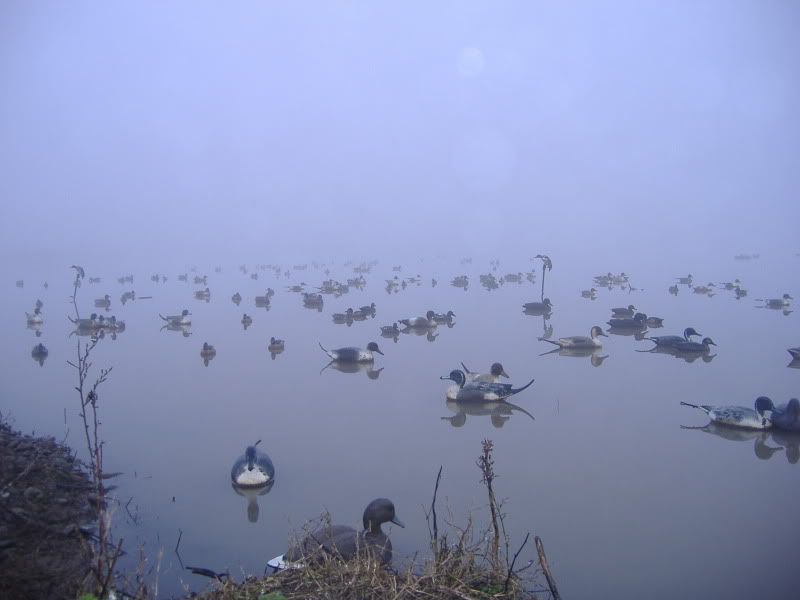 Throughout the morning it sounded like lots of birds flying around but we couldnt see much. We had some greenwings and a group of pintails come in that I dropped a super nice drake pintail out of. Then I popped a decent drake spoonie, but he wasnt really a mounter due to damage.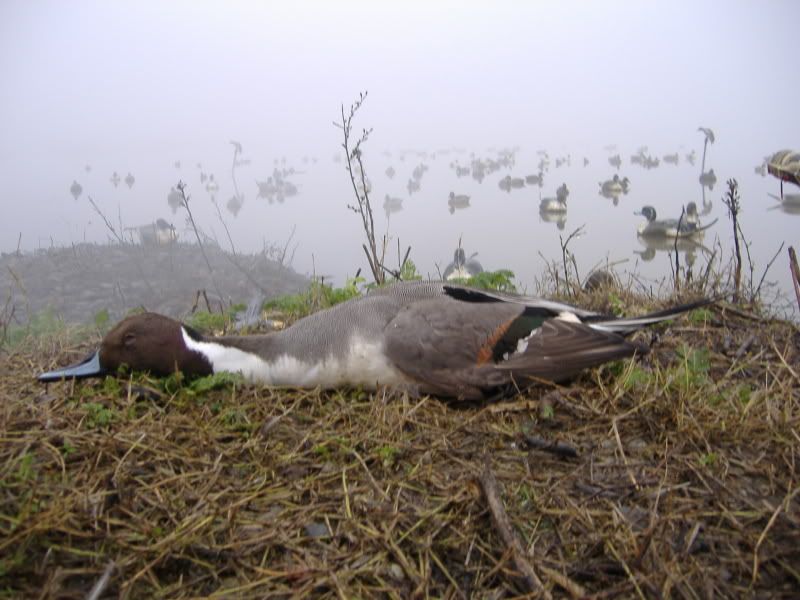 We kept hoping it would clear up, but no dice. In fact it got foggier. At about noon we decided we needed to go get cleaned up since I was flying out in a few hours. As we were taking down the spinners, a hen and 2 drakes spoonies swooped in. I dove for the shotgun and got a sweet double on the 2 drakes. Both were fantastic mature "mounters" with no damage. So after a high 5, we closed out the trip. We ended the morning with 11 birds.
My day 2 limit
It was really a great time. Since I was invited to return and make in an annual thing. I just might have too. I would love to shoot a 7 drake cinni and a 7 drake spoonie limit.