This is a story told to me by someone who shall remain unnamed. I cant say where and I cant say who was with. In fact im probably going to be disavowed for this and dissapear. So nice knowning every one.
So heres what I was told.....
Day 1 started slow. We were in the wrong spot a quick move and it was on. 27 greenheads and a drake pinnie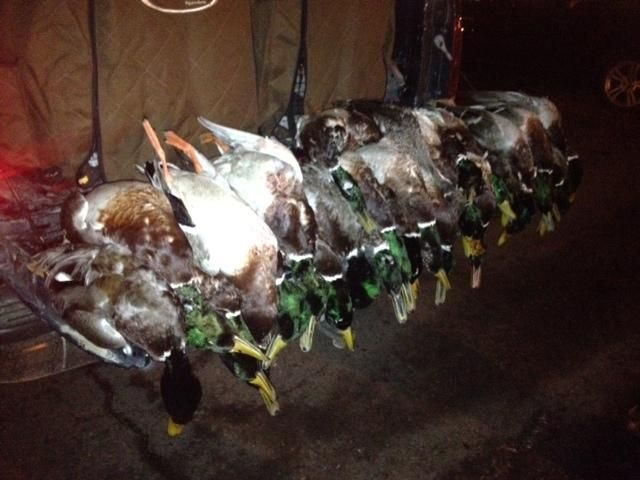 Day 2- After extensive discussion between the hunt mediator and the hunt organizer, it was decided to split up and one group would return to the prior days location and another would hunt a feild. Myself and the hunt mediator returned to the same slough and set up. By 1pm and after seeing several thousand birds, we were done. The other sportsmen in the feild took longer and didnt quite get it done. As a result of them hunting till dark and due to some running around described below we didnt get a pic. However they did get a banded bird. After processing some birds we all went out for dinner and to plan for Day 3.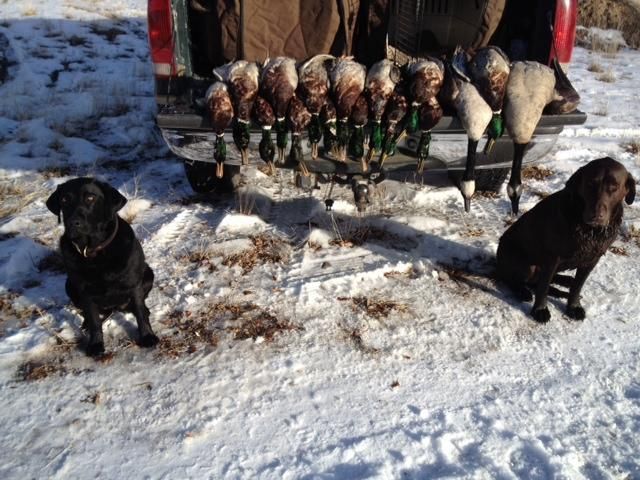 Oh yea, while at the water spot I did a little wildlife conservation by capturing this wounded fellow. Later we turned it over to an animal rehab center. Which by the time we finnished I was wishing I'd left it to starve or just wrung its neck.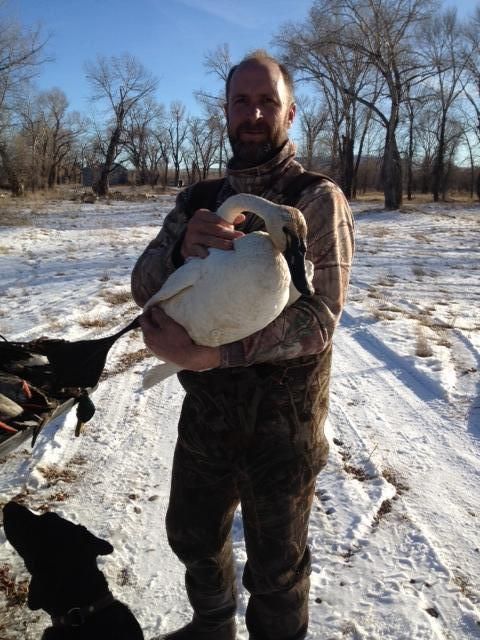 Day 3- After some rather heated discussion between the hunt mediator and hunt organizer, as well as lots of skepticism by the hunt organizer about being able to do a 3-peat, it was decided that 3 of us would go back to the spot we hunted on day 1 and 2. As on the prior days hunts it was slow until around 10ish and then waves of birds appeared. waiting for the the right oppertunities the 3 of us shot a couple singles and 2 triples (3-man singles). Due to some poor gun maintence my shotgun was not cycling properly. I found by throwing it in into the reeds that the problem was fixed......Ok that and going back to a vehicle for some Rem oil fixed it. Shortly there after unfortunetly the hunt organizer had to leave with only 4 greenheads. After some more discussion between a hunt mediator and aformentioned hunt organizer, it was decided that myself and the remaining hunter/hunt mediator would be allowed to remain and finnish out. I should state that the action wasnt steady it came in short bursts. No birds for an hour and then you were covered for 5 min and then no birds and an hour later covered. So anyway, at this point the two of us had 7 greenheads and 1 goose between us. about 45 min after the hunt organizer left we had a large group fly over and we managed to break about 1/2 of them off and get them to cup in. 2 greenheads came in hard and fast and landed with about 35 trailing in. Now I wont swear there was only 1 hen in this group but I'd bet money there werent more than 3. Anyway as the wall of green hit the brakes at 25 yards I said "take em"! 6 shots later 6 greenheads were on the ground. Cant say Ive ever double trippled on all green or seen it done before so that was really cool. So at this point the other hunter is done and I need one. About 45 min later as I was kneeling and praying 10 feet from my shotgun for another duck before the other hunter (an my ride) had to leave at 12, I looked up and from outa nowhere heres a group with again mostly drakes almost over the decoys (that will teach me to mix religion and hunting). So I dove back for the shotty and pulled up and dropped #7....right at 12pm.