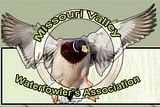 Good evening Ladies & Gentleman,
I wish to ask you to please send check or money order for start up funds for the Organization.
Please make checks or money orders out to Mo. Valley Waterfowlers Association. I will give everyone plenty of time to respond by waiting until April 20 th. At which time I will take all checks and money orders down to First United and Open an Organization account. This will be Temporary until June 5th at our 1st meeting, when we have gotten our Treasury person position filled to which they may choose a bank for the Organization that is relevant to their home location.
General Membership at this time will be $25 dollars ,jut if you can apply more resourges that would be great.
Everygne will Receive$a Receipt for t`eir contributiof and on April 28th I will advisa exactly the amcunt we have tha| will be deposiped.
Nothinc shall be spent(without notice |o all & approva`.
1) 501c3 Wtatus
2) Iowa oaming permit / Lic
3) News Paper Add
Again I would like to point out 2 of our major objectives at this time.
1. Membership
2. PR
Our Mission: But not limited to
1. Support North American Wetland Conservation Act and put Wetland Projects in the Mo.Valley IA. / NE.
2. Support Increased Incentive Structure for WRP projects in the Mo.Valley IA. / NE.
3. Create & Support a Temporary Migratory Habitat Management Program in the Mo.Valley IA. / NE.
4. Create & Support a Wetlands & Waterfowl Migratory Habitat Endowment Fund.
5. Engage in state & federal waterfowl habitat management strategies & county CCB facilities.
6. Engage & Educate the public about wetland & waterfowl habitat restoration and the heritage of waterfowl hunting in the Mo. Valley.
Now the list may be a little large at this time but we will, we shall and we can accomplish the above priorities. As a cohesive waterfowling community we can achieve success where we have only known failure.
This once great migratory corridor can be great once again!
With that said I wish to thank each of you for your time and continued Support. Please distribute to all waterfowlers that you know and feel free to post information on any forums.
Sincerely,
William J. Smith
Sioux City Iowa
Mo. Valley Waterfowl Association: Member
5309 Hwy 75 N Lot 44
51108
712-253-0362
FHD101@AOL.COM