Looks like somebody cripped a greenhead over on the Salmon Falls river and it got trapped in the ice. I guess it makes a feel good story and some FD personnel feel heroic. What's the point of risking someones life on an ice rescue to save a duck, during hunting season no less. No mention of any involvement by USFWS agents or Maine Wildlife and Inland or Fisheries or NH F&G. Seems to me federal law prohibits the possession of a live duck or goose but I am sure the law will be overlooked for such good samaritans. We are not getting smarter as a society
Rollinsford, South Berwick fire crews rescue duck from frozen Salmon Falls River
Thursday, January 5, 2012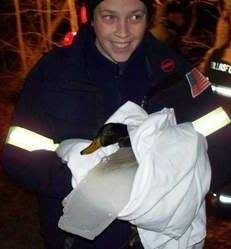 Rescued duck gets attention from unidentified person.
(Courtesy photo - Rollinsford Fire Department)
ROLLINSFORD, N.H. (AP) — Firefighters have rescued a duck that was frozen to the ice in a New Hampshire river.
They said some people out walking their dog in Rollinsford saw a mallard frozen to the ice on the Salmon Falls River. They called the fire department.
WMUR-TV reports
http://bit.ly/AsOfTJ
crews from Rollinsford and South Berwick, Maine, came out with a boat and a man with a cold watersuit to free the duck. It took about 40 minutes.
They said the ice was so thick they had to break it around the duck. A big ice cube was stuck to its wing.
The duck was recovering at a nearby veterinary office.