The plan was to head out to a walk-in spot today pre-dawn and get a quick hunt in. Today was to be a day of helping. A good friend and mentor of mine has a house on LBI in NJ and suffered some damage from Hurricane Sandy. We had organized a small work party to meet at the local Home Depot with my utility trailer in tow to carry the supplies. The alarm rang at 3:45AM and I went to shake my 11 y.o. hunting buddy. He woke and looked at me with tired eyes. I asked if he was ready to go. I received a groggy look but no spark in his eye. Typically, he wakes and is up getting dressed before I can even say good morning. Today, he was shot. I gave him an easy out considering the work day before us. We each took another 2 1/2 hours of rest and altered the plans for a possible evening hunt.
We met my buddy at the local Home Depot at the appointed time and headed to his house. We managed to get all of the work done that was required and some extras. Then we were rewarded with a fantastic afternoon lunch of pot roast, potatoes and carrots. Nice warm food for the stomach. Perfect. After lunch we finished up some other chores, located all of the tools and packed the vehicles.
It was still a couple hours before sunset, so my son and I decided we would take a drive to inspect some of the ramps we regularly use during the season. While we were out, we were hoping to get in a little sneak and creep hunting. Something that can be a lot of fun and teaches you to travel light.
Our first stop along the way showed the ramp to be in excellent condition. While we were driving along one of the channels, we noticed this little guy swimming about being very curious. This little Hooded Merganser gave us quite a show, but unfortunately was not in a legal shooting area. We were completely satisfied in observing and not taking.
After the display by the Merganser, we moved on to the next spot and found this nice little flock of Atlantic Brant.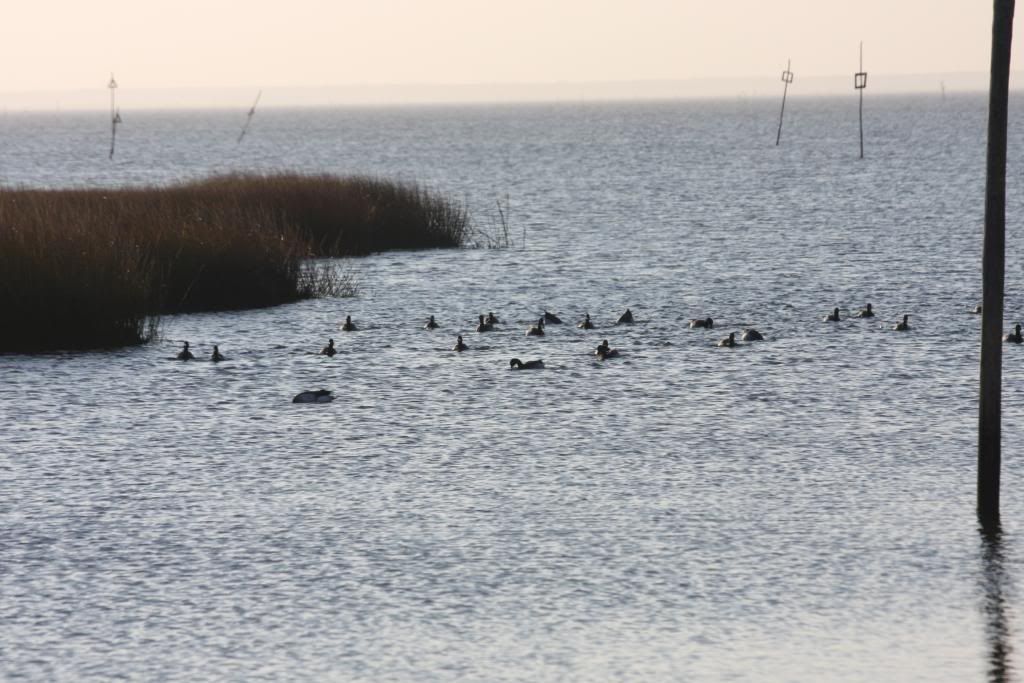 This proved that we were in the right spot for a sneak and creep, we just need to figure out where we wanted to go in. We travelled along a little further and found the spot. We pulled over and got our things together. When I mention we travelled light, that is just what we did. We were still dressed in the work clothes from the day, which only consisted of one camoflage garment, my son's sweatshirt. Each armed with a shotgun, 6 shells, a trusty little white dog and SxS (a travelling decoy that I am involved with this year), we walked off in search of success.
We spotted a flock of Brant off in the distance and started our way out to the bank. As we crept along, we noticed three separate flocks floating along, eating as they went, but lazily floating with the current. Fortunately for us, that current was floating in our direction. We crept to a spot where we could be just behind an outside bend in the creek to provide some advantage for us. We hunkered down to wait, with the dog at heel and laying at my side. My son gently slid SxS into the water in front of us and got back to his position. I gave a word of caution to remain as still as possible. We sat with our guns at the ready.
The first two small flocks saw us as we were setting up but continued to drift in our direction. As they came to the bend, the swam out wide and headed across the channel. Still in shooting distance but a little farther than I would have liked for my son to have success. We kept our eye on the third flock. They were not wise to our location and floated right into position as I hoped for. The floated to within 20 yards of our position. I slowly turned to my son and reminded him he could take two and no more. I encouraged him to pick two birds now while they were on the water. Then softly said, we could each take our limit right here if we did this right. I confirmed he was ready and called the shot. We both stood and spooked the flock, they came up off the water and tried to scatter. We both took our shots. I knocked down two with two shells. My son took down two with three shots. Once they hit the water, we dispatched two that were wounded. Now there were four birds on the water that accounts for a two man limit of Atlantic Brant. That is a first for us, let alone my son taking a double!!
Now we had to attend to the getting the birds from the water. In comes the trusty little white dog. She is a wonderful little English Setter and does very well for me retrieving all sorts of game. With some great work from her, she made four beautiful retrieves after a little confusion as to how she was supposed to bring back four birds at one time.
All I can say, is God shined upon us today and we were very excited. There were some big smiles from both of us and a happy but very cold and wet little white dog.
SxS slinking along near the shore. A hand carved pair of Blue Wing Teal from Illinois.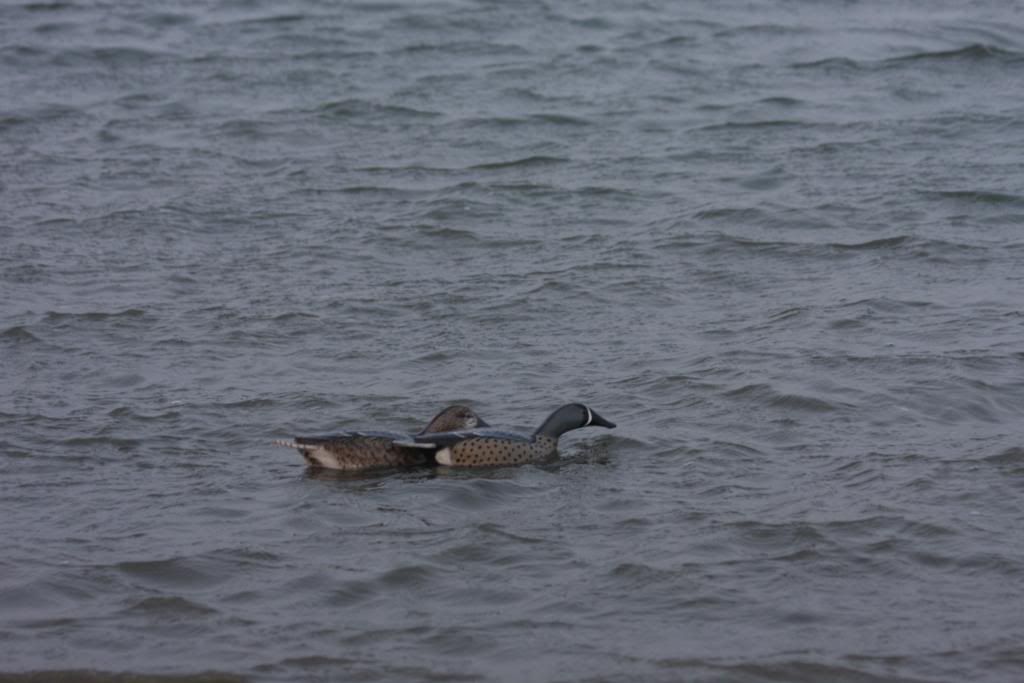 The little white dog and the fruits of her hard work.
The best hunting buddy a guy can ask for, his very tired 11 y.o. son.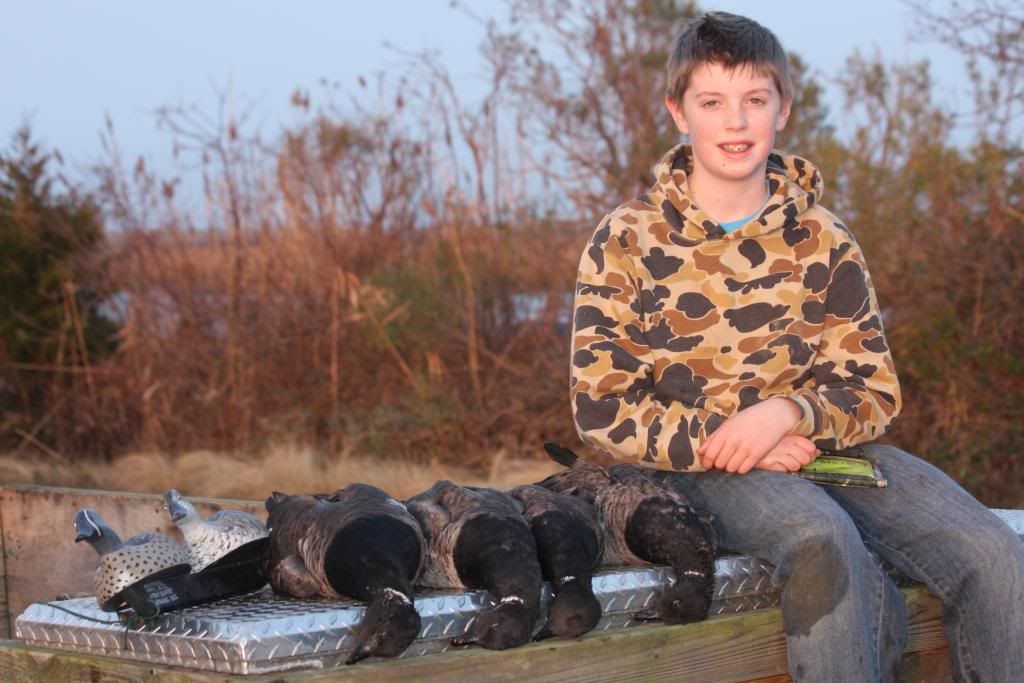 Hope you guys enjoyed the read. It was an awesome bit of fun. Light travelling and efficient, while still wearing "street" clothes.