Took a fine young man on his first duck hunt this morning.
Shortly after first light we had 6 mallards work as well as you could ask, 3 passes and locked up on the 4th. He got to see them work around and dip their wings and turn back to the call. Don't know if his eyes got too big but he didn't connect with them 20 yards and backpeddling. I could tell he was a little dissappointed but I told him we all miss once in awhile
Shortly after we had a pair of ruddys decoy in he missed on the 1 shot as they were sitting down and they took off at mach 1, fearing another scratch his second shot skipped the drake across the water. Another pair of mallards, this time 3 passes and locked up 15 yards out...unfortunately no dice. Next up 3 buffies that came in like they were on a rail and he folded 2 up like dishrags. We also had 2 geese come through about 35 yards and 3 feet off the water with no luck. He also managed to shoot 3 coots on the wing, I don't if I've ever even seen coots on the wing :cool: .
All in all a good morning. He really wanted one of those big ol' greenheads but he was all smiles all morning, thanking me over and over again.
The picture says it all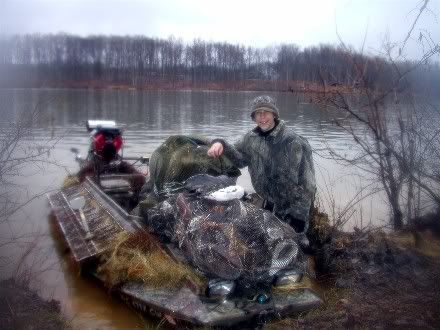 Just curious, did anyone else get after them this morning?
Ducker
PS - Are there any taxidermists out there that might do a freebie for the young man on his buffie? Or possibly even reduced cost and I'll pick up the tab as money is tight with their