Awesome turkey season! Definitely top 3 in the last 20 years and maybe the best ever since I've been hunting! Birds are going crazy!
Saturday AM my gf got her first longbeard!
Tuesday I had the opportunity of taking my first multiple bearded bird. 4 beards all together.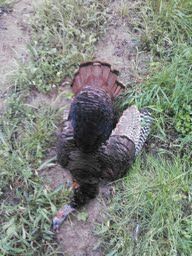 Then Thursday we got one 2 big hot gobblers in mid afternoon and pulled a double! Probably the best hunt I've ever been on in my life. I called these 2 toms in from 500+ yards and they flew across a creek to get to us and strutted within 30 yards of us for an hour and a half before we could get the right shot for her, then she handed me the gun and I got mine!