I wish we would get some more reports and pictures posted here in the Indiana section. I love reading everyone's stories and seeing pictures of dead ducks. That being said, here is a report from my outing yesterday morning. I'm still a rookie at this stuff...
Can't say enough about how much I'm enjoying my kayak for duck hunting. This time, instead of floating the river, I opted to actually paddle out and set up some decoys to see if I could lure anything in. I have been wanting to try a small hole that I bass fished quite a bit over the summer and since it is in a zone that closes this coming Sunday, I figured Monday morning was as good a time as any to get out there.
I woke up and was greeted with rare December weather, at least for northern Indiana. It was 53 degrees and really foggy. The normal 20 minute drive to the lake took me 40 minutes, putting me behind schedule. I rushed to get the kayak launched and it wasn't long before I was paddling across the bigger lake in the dark and fog. Let me just say that SUCKED! There were no other boats at the small launch, so having to worry about others on the water wasn't a problem. However, finding the small channel that led from the bigger 50 acre lake to my spot on the smaller 2 acre lake was...shall we say...an adventure. My headlamp shining against the fog was worthless and I eventually turned it around backwards (law to have it on in Indiana). While the fog was thick, I could still make out the dark tree line of the woods that surrounds the lake. I just aimed for the opening in the trees and found the channel that way. It wasn't long before I was in my spot and setting out decoys. With that chore finished and legal shooting time quickly approaching, I rushed to anchor my kayak and toss some camo burlap over it (one piece to cover the back of the yak, another piece to cover the front and myself sitting where the two pieces met...not as fancy as some kayak blinds on this site, but did the trick nicely). I no more than got myself hid and loaded my gun when the alarm on my cell phone vibrated, letting me know it was legal shooting time.
My set up, complete with my late Grandpa's single shot 10 gauge...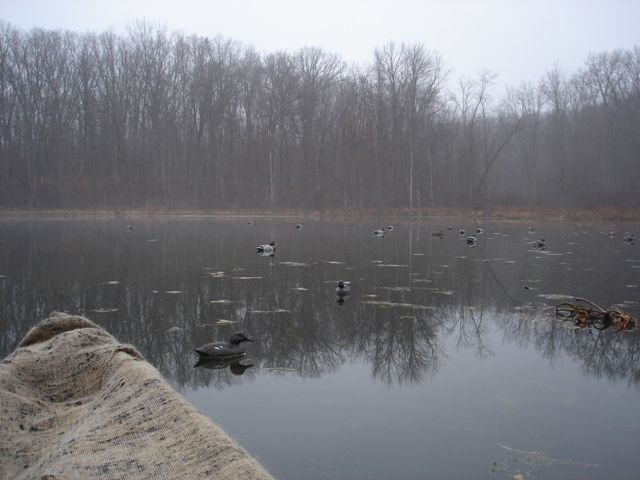 I'm new to this duck hunting stuff, but since a guy I know mentioned shooting some teal a week ago, I thought a few teal decoys at the edge of my mallard decoys would help mix things up a bit...
In my rush to get set up, I failed to worry about this one lone hen decoy with a short anchor string. The string didn't hit bottom and I remember noticing that, but I figured the anchor would catch on some underwater weeds or something. I was wrong and before long she was floating away on her own. Rather than worry about it, I just let her float off by herself to the other side of the pond. Women can be so stubborn...
I seen four ducks total, each by themselves with no pairs or groups coming in, but I didn't kill any. The first duck I didn't actually see, but rather I heard him fly over me right at legal shooting hours. He was going fast and making a feeding chuckle type of sound as he flew over. I tried calling, but to no avail. The second duck I seen outsmarted me. Rather than watch the sky for ducks, I was busy looking into the nearby woods for deer. I noticed movement "in" the water below me and when I looked, I saw the perfect reflection of a mallard drake RIGHT above me heading out after coming in to check things out. By the time I got the gun up and on him, he had managed to get the trees behind me in between us. Lucky duck. The third duck to show him/herself circled my set up four times but never came any closer or offered a shot before heading off to parts unknown. Last but not least, as always seems to happen to me, the final duck seen yesterday flew by 100 mph as I was picking up decoys and getting ready to head out. He was going fast and out of range anyway. Such is hunting. Here are a few random pics to take you there...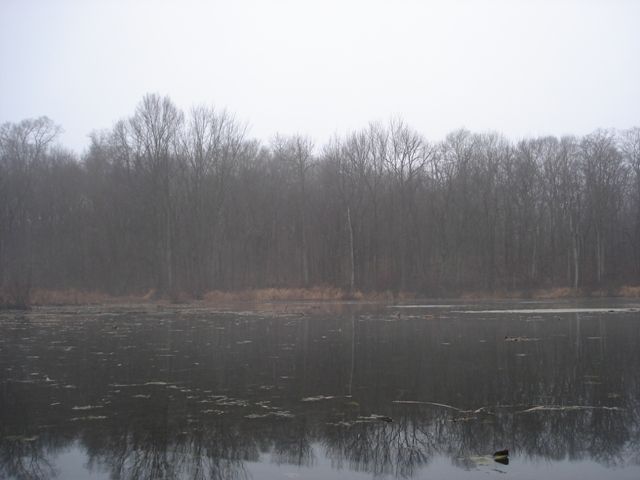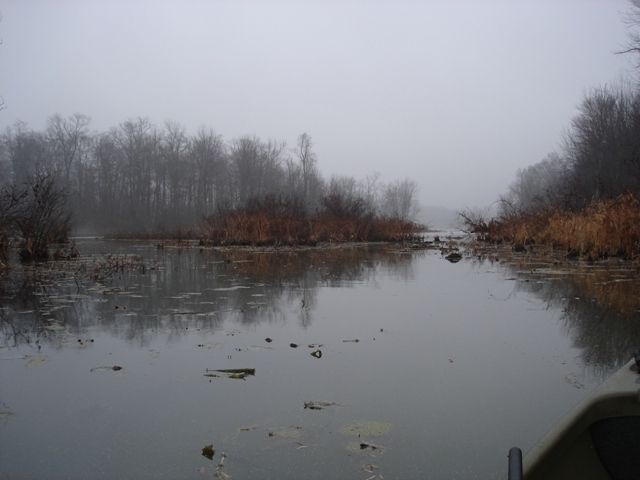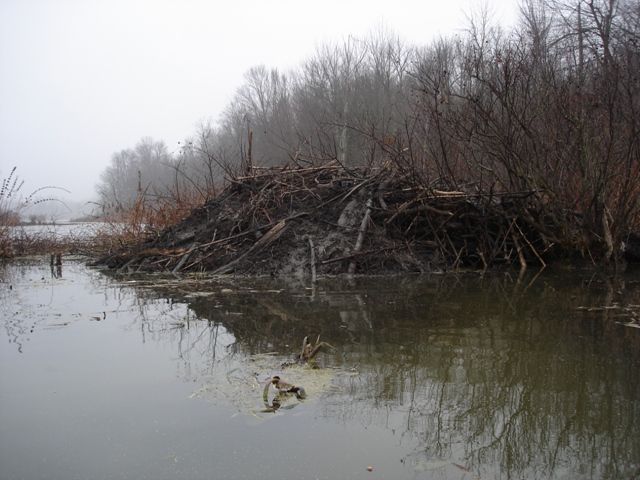 I paddled back out the channel and into the bigger lake just as the wind picked up, blowing in my face of course. With my life jacket securely on, I made the difficult paddle across the lake back to the boat ramp. Just as I was pulling up to the ramp, two conservation officers pulled up. Super nice guys and after they checked my licenses and stamps, we chatted for a while. One of them was a young rookie and you should have seen the look on his face when he checked my gun. It was rather comical.
The officers left and with that I loaded up the kayak for the drive home. No ducks killed, but a fantastic morning. Being new to this kayaking stuff and still a rookie at duck hunting, I learned a lot on yesterday's adventure. Some of the things I learned were...
1) Fog + dark + kayaking = claustrophobia
2) If you are paddling up a narrow, shallow channel in the dark and get your kayak hung up on something under the water, you WILL have visions of scuba diving Sasquatch in your head.
3) If a beaver slaps the water with his tail in the dark, within seconds of getting hung up on something under water, you will have visions of TWO scuba diving Sasquatches.
4) Pay attention to the skies, not the woods.
5) My duck calling skills lack any skill.
6) Double check the length of the anchor string on your decoys...idiot.
7) Don't set your decoys too close to each other. Open it up a bit. Sorry, this is a serious lesson and not a comical one. My spread didn't look near as nice in the daylight as it did the dark.
8) When a young conservation officer realizes you're using a single shot old 10 gauge for duck hunting, he WILL think you're odd. Especially after having just watched you paddle across a wind chopped lake in a kayak.
9) Nearby deer hunters that you don't realize are nearby, will laugh at your pathetic duck calling. I was told this by the conservation officers, who had just checked some bowhunters on the other side of the hill from where I was set up. Apparently, they said everytime they blew on their deer grunts, some sick sounding duck would reply. I never heard them. Glad I could be of some amusement.
10) This kayak duck hunting stuff is FUN, FUN, FUN!
This picture would have looked a lot better if some fat mallards were draped across the kayak. Oh well, maybe next time! Thanks for coming along!