Ya'll enjoy this one...I have been lookin for this recipe and finally found it yesterday...in one of my cookbooks, folded up and stuffed in between the pages...
Smoked Redfish Dip:
coarsely chopped meat of 2 smoked Filets on the half shell (skin on) from a 20-24" redfish
8oz. creole cream cheese (you can use philly in place of creole)
8 oz. Real mayo
1 tsp. minced garlic
1 small onion finely diced
2 TBSP butter
1 tsp. Lee and Perrin's Worcestershire sauce
1 tsp freshly squeezed lemon juice
20 drops lemon crab boil
6 green onion tops (green) finely sliced
dash of dried thyme
dash of Louisiana Hot Sauce
1 TBSP Steene's pure cane syrup
To cook:
Blackened Redfish seasoning:
1 TBSP paprika
2 tsp. Salt
1/2 tsp. cayenne pepper
1/2 tsp. black pepper
1 TBSP granulated garlic
1/2 tsp. dried oregano
1/2 tsp. dried thyme
Heat smoker up to 200~225. Season redfish on the half-shell (skin on) liberally with blackening seasoning and place skin down on grill. Heavy smoke fish for 1 hour with wood chips of choice. (I like pecan or mesquite.)
when fish is done, remove meat from skin carefully and scrape dark meat off, coarse chop white meat and set aside.
in a skillet, melt butter over med. heat and saute onions, garlic, and green onions until onions are translucent and wilted..5-7 min. Remove from heat and transfer to a med. stainless steel bowl. let cool slightly, then fold in cold cream cheese and allow to melt, fold in mayo and them all remaining seasonings. lastly, fold in fish. check for seasoning and add more blackening seasoning if needed... this dip should be served warm with either crackers or french toast croutons...enjoy! Great for parties and football games...
*EDIT*
This is Lemon Crab Boil concentrate: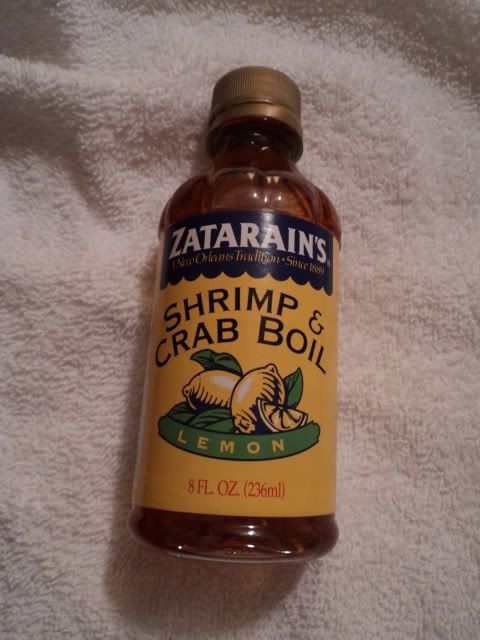 you can find it here:
http://www.zatarains.com/Products/Seafood-Boils/Shrimp-and-Crab-Boil-Lemon.aspx