UPDATED WITH 36 HP PRO-DRIVE MOTOR RESULTS!!!!!!
We have had alot of requests to build a larger version of our Prowler hulls ever since we introduced them two years ago. Well we have had the bent material on hand for over a year now and finally managed to get the prototype 44" Prowler built and tested.
This new hull is built off the same design concept as the production 36" bottom Prowlers, but everything is bigger and tougher to handle more people, gear and bigger motors.
Here are some pictures: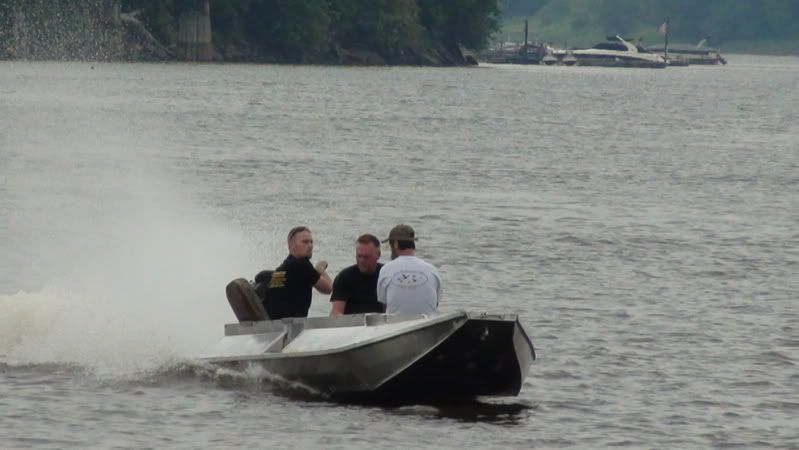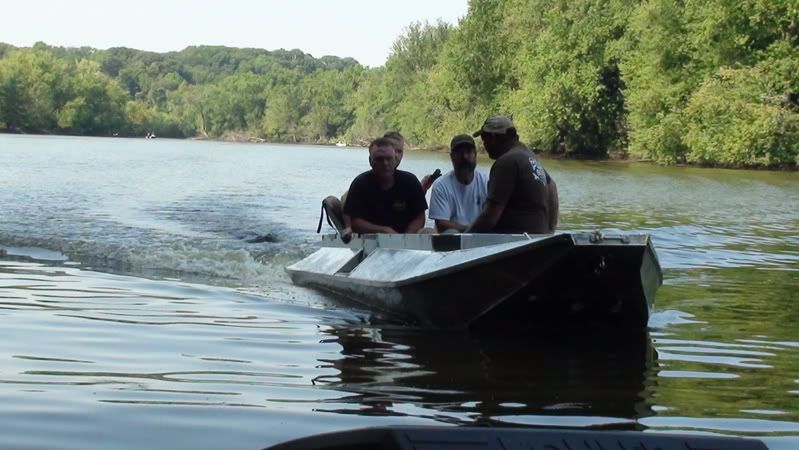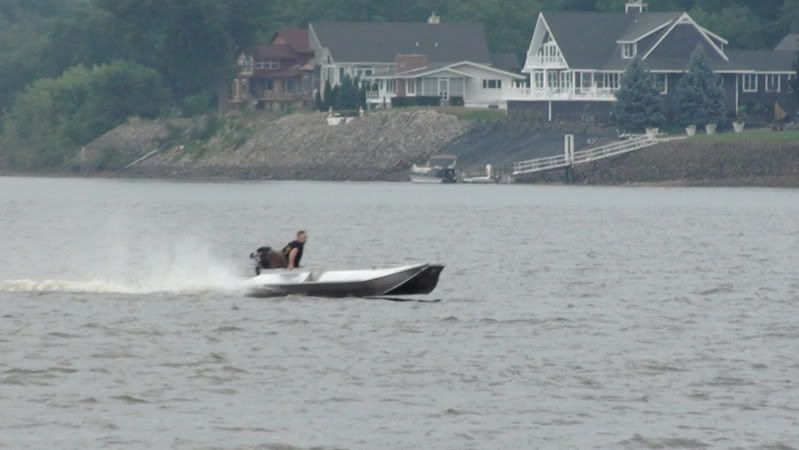 Test Results:
Okay, here is the hard data on the new Phowler Prowler Extreme 1744.
We ran this motor in controlled tests for two days using the same five men, same water and conditions.
We tested a 12hp, 18hp, an older 20 hp MB Hyperdrive and a 27 Pro-Drive.
Here are the basic details on the hull:
New Phowler Prowler Extreme Series:
Lenghts from 15-18' Test Boat 1744
Bottom Width 44"
Max Beam 60"
Cockpit Beam 44"
Cockpit Lenghts 116" (15') to 152" (18')
Cockpit Depth 22"
Available in low or high transom risers.
Hull Material - Subhull .100 5086
Stringers - Five
Full floor
Drop in Seats
Running lights
Full Floatation Standard
HP ratings - 25-40 hp depending on models This one can be rated for 40 hp, but we need to test it with a 36 PD to make sure it is safe for this large a motor. TESTING DONE WITH 36 HP PRODRIVE- RAN GREAT AND WILL BE RATEDTO HANDLE A 35-35 CLASS SURFACE DRIVE IN 17-18' MODELS.
Capacity Ratings 3-5 persons depending on model. The 1744 is rated for 4 persons.
Full line of accessories and custom options to choose from.
We are now taking orders for September Delivery.
Testing Conditions:
Deep water - Mississippi River below Lock and Dam 13, in channel 10-20' water 2 mph current average.
Shallow Water - Same are off channel in 3"-18" water.
Wind Light to 5 mph.
Men weight - average 185-190 lbs with one 280 lbs.
Test Results:
updated!
36 Pro-Drive Short Shaft with Power Trim and Auto Reverse:
1 Man 210 lbs - 30 mph average
2 Men 450 lbs - 28mph average
3 Men 660 lbs - 26.5 mph average
4 Mend 925 lbs - 24.5 mph average

Shallow water 1-2 feet

4 men 925lbs - 27.5mph top speed.
12 hp Copperhead
1 man 20 mph average, max 21mph
2 men 18 mph average max 19.1
3 men 17.2 mph average max 18 mph
4 men 14.9 mph average max 15.4 mph
5 men 10 mph average max 12 mph
All deep water
18 hp Copperhead Vanguard/Briggs
1 man 25 mph average, max 26.5 mph
2 men 22 mph average max 22.7
3 men 20 mph average max 21 mph
4 men 17.5 mph average max 18 mph
5 men 13 mph average max 14 mph
Shallow Water 3 Men 23.5 mph max
2006 20hp Honda Mudbuddy Original Hyper drive (with worn out prop)
1 man 19 mph average, max 21 mph
2 men 17 mph average max 18.1
3 men 15 mph average max 16 mph
4 men 12 mph average max 13 mph
Please note the prop on this motor was roached, no cupping left, but it is what we had at the shop to test, you can be pretty sure that will a new prop this motor would have picked up 2-4 mph, it was slipping badly with the heavier loads.
27 Prodrive Shortshaft with reverse
1 man 26.5 mph average, max 27.8 mph
2 men 24 mph average max 25
3 men 22 mph average max 23.5 mph
4 men 19 mph average max 19.5 mph
5 men 15.5 mph average max 16.2 mph
Shallow water with 4 men max 24.2 mph
We were impressed with all the motors, even the little 12hp. Even with the larger loads at slower speeds the boat was fully on plane and handled great. This boat will turn on a dime. The ride is smooth.
We were very impressed with the 27 PD being over 100lbs heavier then the Copperheads, yet is carried the load very well. Both the 18hp Copperhead and the 27 PD will make a very good 3 man rig with gear and still run 17-20 mph.
These boats are 2-3 man hunting rigs, though you could hunt 4 out of an 18' version.
We will be able to rate this boat for a 36 hp surface drive, but we did not have a short shaft here to test, we should be doing this in the next few weeks and will post results.
As noted, our prototype performed just as we thought it would and we don't need to change anything on this hull to go into production. We have additional hull materials here and will have more coming soon, so we are taking orders now for fall delivery.
Here are two videos of the tests, one is the 18 Cooperhead with three the other the 27 PD with four
Click pictures to link to video
18 Copperhead with 3 men: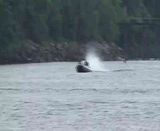 27 Prodrive with 4 men: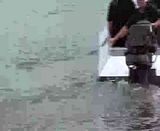 These new hulls will go into production in August, we are taking orders already.
Phowler Boat Company offers the most complete line of waterfowling rigs on the market, check out our website for our full line of custom boats and blinds.
PW