I have eighteen Bigfoots left in my spread of Avery FFD`s . I have had them for so long I hate to get rid of them but I did feel they needed a little upgrade in the realism category . Flocked heads helped ,but as one hunter on the forum posted , " they have a cartoonish look with those big feet " also they provided no movement . In continuing with the modernization process I purchased the Bigfoot motion kits . I was less than satisfied with the design . The stands have three legs that fold out plus rubber bands that continually broke . They also made the decoys stand unnaturally tall and were labor intensive to set up. After several uses I retired them to storage . This summer I purchased a decoy trailer and revisited the Bigfoot motion stand issue in order to find a way to carry them assembled in the trailer eliminating the bagging process. I got it done and am pleasantly surprised at how well it works for both storage and field use .
This is an original bigfoot motion kit .
I used this part from the Bigfoot motion kit . It is part # 0706 and can probably be purchased from the Clinton Decoy Co. of Clinton Iowa . They make the bigfoots.
Using a step drill I drilled the appropriate size holes to accept the 1/4 " bungee cord . E Bay $8.99 for 50 ft.
This is the completed adapter with bungee cord installed .
I chose to use Avery style decoy stands that I purchased on E Bay for about $3 each. They will allow my to leave the decoy and stand together and store completely assembled along the trailer walls . I cut the stands to 9" tall and used the cut-off piece to make the hook for the bungee cord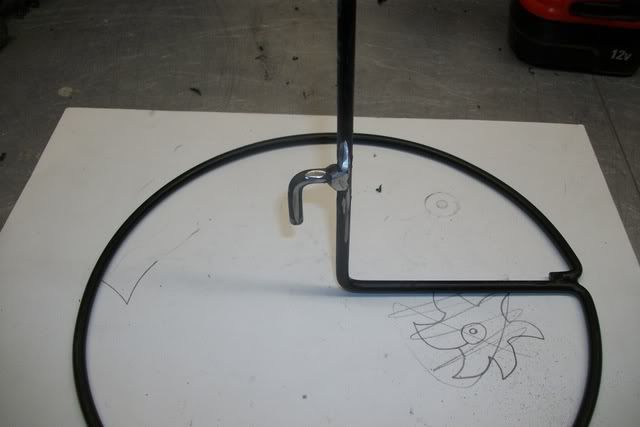 The decoy adapter and stand complete .
Completed bigfoot ready for the field or to be hung on the decoy trailer wall.
My Bigfoot`s are now capable of being stored on the walls of the trailer like these or they can pulled apart and bagged if desired.