Does anyone have one of these, or hunted over one, and what do you have to report on them?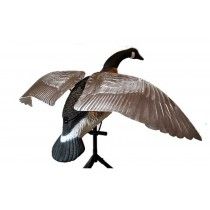 I just put in an order for one today. Hunted over a friend's this past season, and his and my X flapper seemed to really draw in the geese well. Another friend hunted over it as well, and bought one the next day.
I'm pretty sure my Son-in-Law ordered one today as well.
Be interesting to get all the guys I know who now have these, and my X flapper as well for a grand total of 5 such motion flappers in a field spread.