Well, I saw someone mention turkey hunting, so I thought I'd mention some idea's I had. I do quite a bit of turkey hunting here in calif., former quaker boy pro-staff, reining Calif. state turkey calling champ. and state board of director's for NWTF(retired) LOL
I would like to see if anybody would be interested in trading some duck hunting gear for a quality, private, or public land turkey hunt. I'm looking for some teal, snows, honker deeks as well as various other stuff. maybe evensome old shotguns for the guy who has too many.
I guided for many years, with lots of photo's and references.
Here's some photo's of some of the hunts: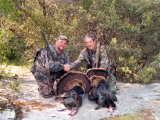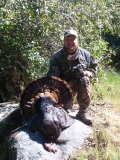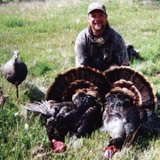 P.M. me or send an e-mail if you are interested.
_________________