Here they are folks, in order taken:
Shot in Hot Springs, South Dakota. This one has many a busted tine, looks like he got in a fight and lost. We figured he thought he was the big buck on the playground and tried to pimp away some other bucks ho's and lost the ensuing fight. Showed he had spunk. His head is being European Mounted and is going on the wall.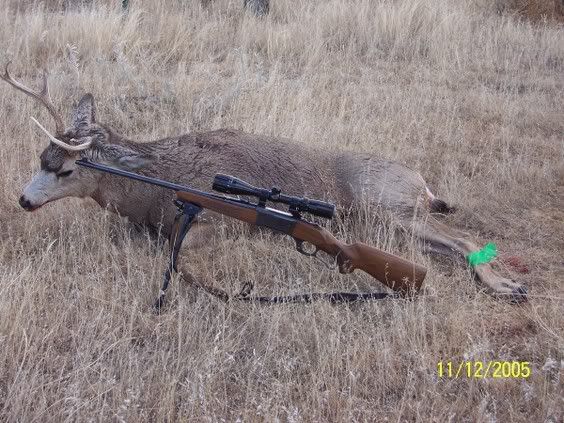 Shot in Hot Springs, South Dakota. This one was mistaken for a doe *is ashamed* Sun was cresting over a hill with a bunch of does feeding. Glare in the scope, small rack that could not be picked out thanks to his big ears. Called the CO and he came over and inspected the deer, heard my story of what happened. He took my doe tag, retagged the little buck for me, issued a warning ticket, and then thanked me for being honest and not trying to get away with transporting an illegally taken deer. This could have resulted in a huge fine, possible jail, etc, etc, but the CO was very professional, very understanding, and was suprised I called and reported myself. His head is being European Mounted and stuck on the wall with my warning ticket: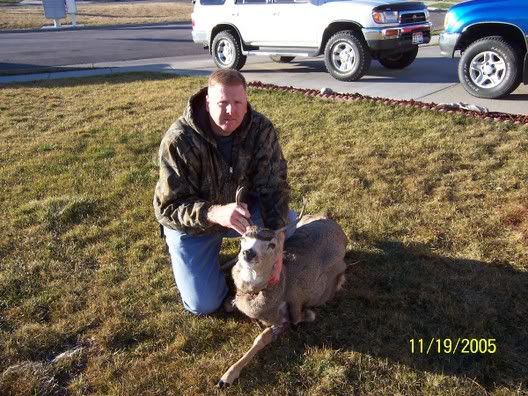 Third buck of the season taken in the Black Hills, South Dakota on 30 Nov, last day of the season. I was out there alone for 6 hours and this was the only buck I saw. Figured they would be moving thanks to the snow fall, boy was I wrong! The does I saw were all bedded down at like noon! I jumped 3 does at about 1:30 while walking a snow covered logging road in the hills. They ran about 500 yards and bedded down again. Came around the corner and spooked em again then looked at my feet. I noticed what looked to be fresh tracks crossing the road to my right so I followed them with my eyes. I then noticed movement in front of me and to the right, that is when I spotted this guy. Last day of the season, cold, snowing, peaceful as all get out, this little buck grazing alone, man what a setting. All I could think about was the episode of "That 70's Show" where Eric and his dad were in a tree stand. Eric says "Look, he looks like the king of the forrest." BLAM!! Eric's dad says "No, I am the King of the forrest." Anyway... Shot this guy through the right side, both lungs, exited his right shoulder. He went a hole 20 feet before dropping dead in a snow bank. I think he only made it that far cause it was downhill. His head is also being European Mounted and stuck on the wall.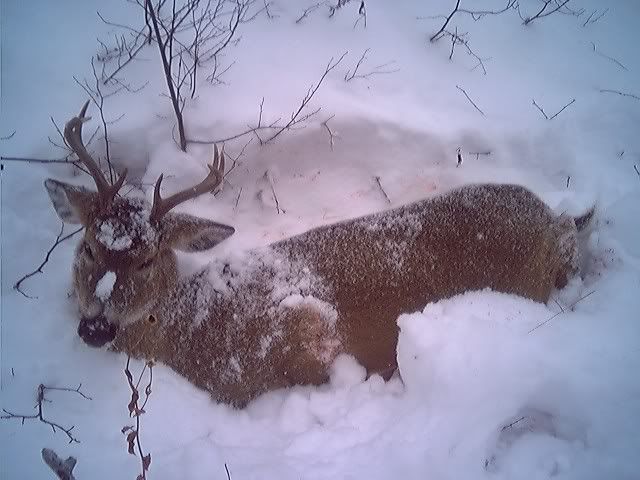 Not as big as many posted here, but I hunt to be with my friends, to get away, and for the meat. Don't really care if they have a rack, or if they do if the rack is big. It is all for the enjoyment of the hunt.
Deer season closes, I filled all my tags, I am happy. Back to ducks and geese!
PEACE!!
NOTE: All three taken with a Savage Arms, Lever Action, .308 *loves his .308*