i got up at 5:30 and was at a certian lake by 6. when i got there the shiners were boiling at the top like the water was on fire. i got out my white bleeding mimic minnow and started casting with my sunny rod. it has 4 lb test on it. second cast hooked into something that took my line so fast i had to tighten it. that 4 pound test never stood a chance. so i break out my bigger rod with 8 lb xtra strong and hooked my last white mimic minnow up and cast. 3rd or 4th cast hooked into a big sheep head. got a total of 4 of them. then i guess a bullhead being about 4 pounds hit my minnow. :( i was about to give up on that spot when a HUGE splash from the other side of the shore made me stay. i cast into that ball of shiners and right away line was leaving my reel like i had hooked up to a truck. about 5 minutes of fighting i see it is a HUGE bass he decides he isnt done yet. mind ya i have 8lb xtra strong on my line and i was getting worried finally got him in and put him on a stringer after taking a picture of him on my 18 inch long tackle box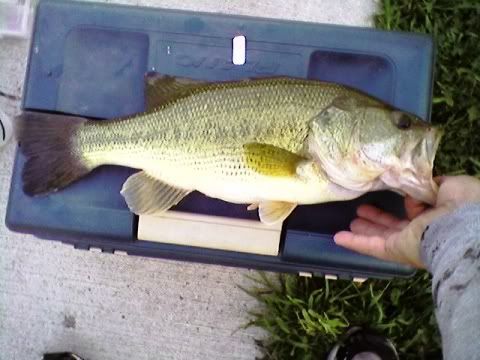 so now i am really ready to fish. i cast for about another 5 minutes and see another huge splash were i had just caught my first one. i cas there again and after about the third try my pole bends to the point of breaking and smoke is coming from my reel. (not really) after another 5 minute fight i get the next pig in and it is 1 inch longer then my first one.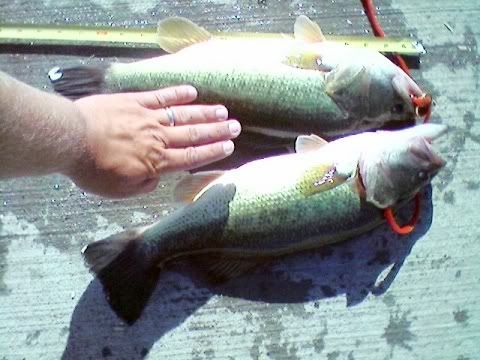 all in all a great way to start off the day. so i have learned cast into the ball of bait fish and try to match there color and make it look like your bait is the slowest and easiest to get. mimic minnows are awsome. gotta get the paddle tail ones. can anybody guess the weight of these fish for me? here is a third one i got about a year ago guess his weight to.