Today I slept in and then went to town to get my hair cut and fill my truck with gas. It was noon when I left my house to go do some coyote calling.
When I got to the ranch and went through a gate leading into a steep canyon I noticed the wind was blowing down the canyon. It is normaly blowing up the canyon so I decided to hide my truck behind some big junipers and then walk up the canyon and call into two canyons that meet at the road I walked up.
I set my Fury, SP-55 Speaker, Contour Roam Video camera and a Foxpro Decoy right by the ranch road and then sat down in the edge of a juniper about 15 yards from the caller. I selected Bay Bee Cottontail and raised the volume to 35 and then made sure my camera was on. When I looked up accross the road at the ridge splitting the two canyons I thought the whole ridge was moving.
There was two coyotes hard charging off the mountain about 75 yards away and the Fury had not been playing Bay Bee Cottontail more than 15 seconds. So I started taking pictures. I couldn't really see the coyote I was trying to take pictures of very good at all and once the coyote got by the Foxpro I dropped my camera and grabbed my shotgun.
I am glad I shoot Sporting Clays because the shot on this coyote was just like some of the rabbit targets I have shot in Sporting Clays. The coyote was hauling *** about 12 yards from me and it was about 5 yards from going behind the juniper I was sitting in. So I swung my shotgun from behind the coyote at a fast speed and as soon as my barrel reached the coyotes neck I pulled the trigger. Now I know that my 3" 1-1/2 oz reloads of Federal Heavyweight #2 shot will kill a coyote at 12 yards.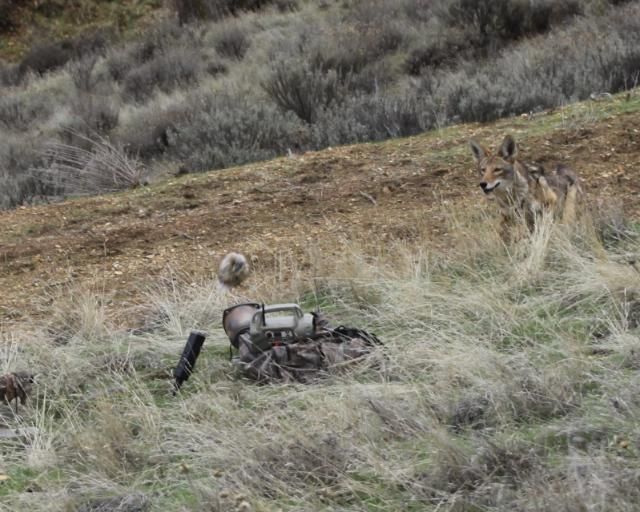 When I shot the above coyote the Foxbang feature on my Fury kicked in and started playing "Coyote Pup Screams" on full blast volume 40. I didn't see the other coyote get by me but I heard it screaming back challenges towards my Fury that had Coyote Pup Screams playing. I didn't think that coyote that was now down hill and down wind from me would come back to the caller.
This coyote was screaming back at my Fury and I could tell he was getting closer. I looked accross the road and saw dirt flying in the air out from behind a juniper and I could hear the sound of the coyote comming from where I saw the dirt flying. That male coyote was scratching the ground and screaming at the same time.
A few seconds later he ran up the ranch road towards my Fury and stopped about 30 yards from me. That is when I found out my #2 Federal Heavyweight shot reloads work on coyotes at 30 yards.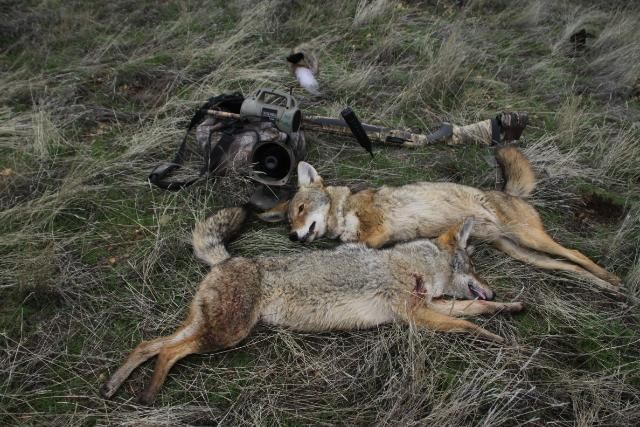 Here are the two coyotes that showed up so fast. It all happened so fast I really didn't know if I had got any pictures of the coyote by my Fury.
The next stand was a shotgun stand also. The Fury had not been going more than about 6 or 7 minutes when I noticed a coyote comming uphill from the down wind side.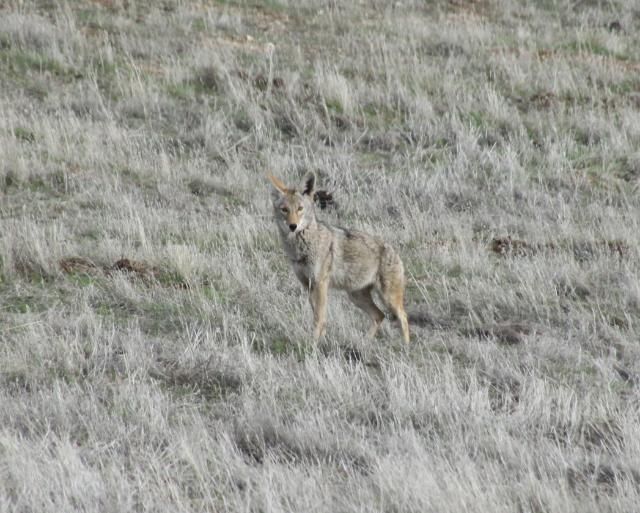 This coyote was heading for my down wind so as soon as it went behind a oak tree I set my camera down and raised up my shotgun.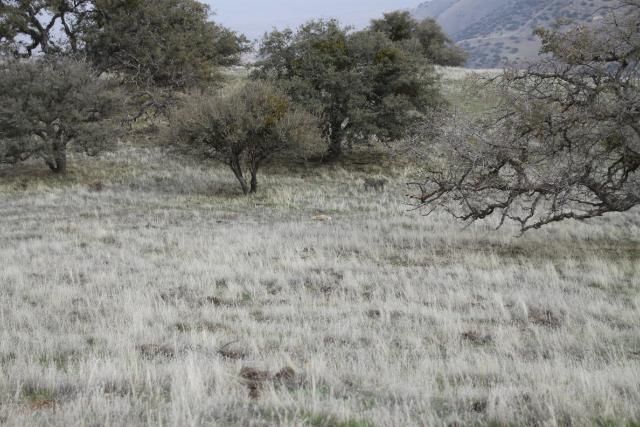 My #2 reload dropped the coyote right in the middle of this picture. I stepped it off and it was 42 big steps.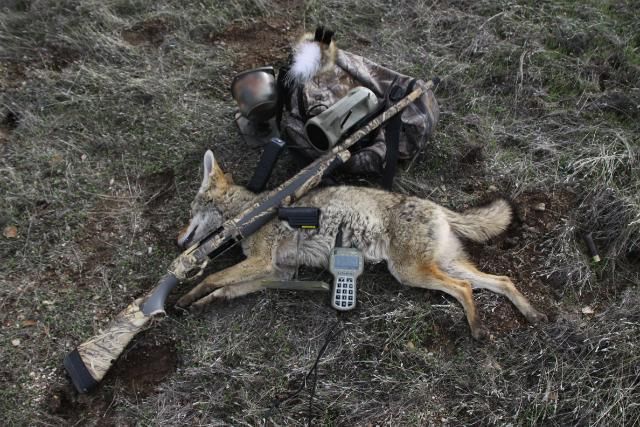 I was pretty sure it was going to be a good day, two stands and 3 dead coyotes.
On my way to the next stand I saw a coyote in with some cows and calves. I got out of my truck with my 22-250 and layed down in the prone position with the bi-pod. The coyote was not in a hurry so I did one long mouth howl and the small male stopped to look back at about 150 yards away. My 22-250 put him down in his tracks.
My next three stands were blank stands.
On the next stand I made a stand I didn't have much confidence in. The wind was now blowing up the hills but I wanted to have some open area to take pictures if anything did come in. So I pointed my CS-24 at the hill top that was about 50 yards in front of me and pointed the SP-55 Speaker the opposite direction. So I was hopeing to call a coyote over the hill in front of me but I was pretty sure that a coyote would come from the down wind side because the wind would carry the sound farther that way.
I am pretty sure my CS-24 had only been playing about 5 minutes when a coyote came over the hill from the up wind side and it ran right by my CS-24 and the Foxpro Decoy.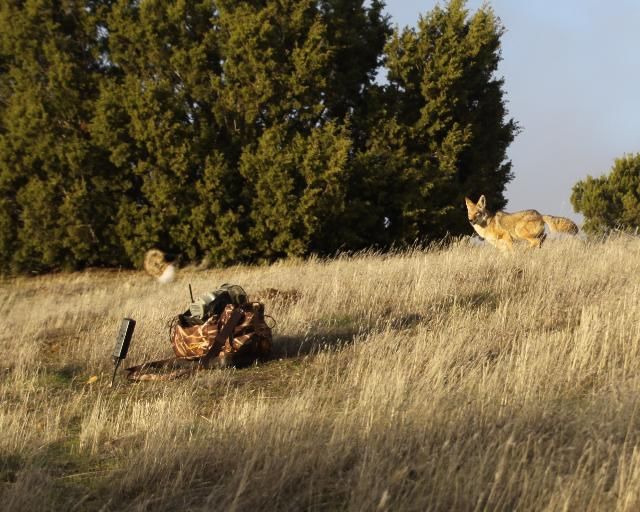 As soon as the coyote went by the CS-24 and decoy I dropped the camera and grabbed the shotgun.
The last stand of the day was a blank but I did hear two different groups of coyotes.
It was another great day, I got my hair cut and got 5 coyotes..
I will post some video footage later, it is not great footage but it is better than nothing.