Bought my self my first handgun last summer, Its a Compact/ officer's model Rock Island 1911. I figured it needed a little pimping and a little better fine tuning. I polished a few parts and got a couple of aftermarket drop in parts! I polished the trigger bow, feed ramp, barrel, hammer sides, and the sear/ disconnect. I also painted the tips of my sights white with a steel marker.
The upgrade parts I installed are-
Houge wrap around grips (much better than the wood!)
Wolff recoil spring
Cylinder & Slide sear/ leaf spring (reduced the trigger pull by 1lb! trigger pull is now 3.6lbs)
Wilson Combat hex head grip screws (stupid factory slotted screws)
Also got a spare Chip McCormick mag.
I also plan to get a new mainspring housing with a mag well soon.
day I got it-
the upgrades-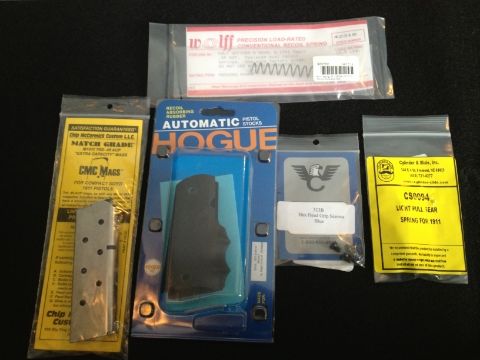 Apart for le upgrades-
painted sights-
Finished product-