Well, after the first two days of hunting flooded woods, henned up gobblers and a funeral i was able to get back after them on Thursday morning in one of my other spots. I had a blind set in a corn stubble with an adjacent wheat fieild then the woods. The birds were coming outta the woods and working their way acrossed the wheat to the corn. Theyd either return to the woods they came from, or cross on over to the next woodlot. Great transition/strutting/feeding area.
So, Thursday morning i get out there plenty early and set up my two decoys within 10 yds of my blind. As soon as it started to break day the woods erupted with gobbling toms and yelping hens. I could distinguish several different birds in there. There was quite a bunch in one roost and then a single gobbler to the east. Not being close to the woods, i didnt make any calls right away. I just sat back and listened until the birds were on the ground. Once they were i gave a series of yelps, which was returned by several gobbles. I waited patiently and the lone gobbler gobbled again on his own, only this time he was 100 yds or so from where he gobbled originally. So, i did another series, which he also answered. Within 5 minutes i spotted him at the field edge. After glassing him i could tell he was a nice bird and one id try to call in. So, i hit the slate call again, he gobbled, stood up really strait looking my way. As soon as he spotted my decoys he took off on a dead run. Now, im positioned several hundred yards out into this field. He ran full bore about half the distance, stopped, gobbled and began to display. I gave a few clucks and softer yelps, he gobbled again in full strut and continued my way. As long as he was coming i never said a word. Whenever he'd stop id hit him with some soft clucks and yelps, he'd answer and keep coming. Finally, he was within effective shotgun range. He strutted back and forth, so i gave him a few clucks and purrs and he responded with yet another thunderous gobble. Afterwhich, he proceeded well within my effective range. Finally at about 20 yds he stopped and strutted back and forth spitting and drumming. I watched him for what seemed like forever waiting for him to maybe inch a bit closer yet. After several minutes of watching him i decided i would take him. While displaying he would periodically lift his head up away from his body a bit and tilt it back and forth. I had my mind made up i would wait for him to lift his head, then take him. So, I eased the Benelli out the window of my tent half suspecting to get caught in the act, which to my suprise, i didnt. So, with a good bead on him I patiently waited for him to raise his head once again. He finally did and i folded him.
It was a great hunt, with an outstandind show. Another great season in the books. Now i can look forward to calling for my buddy Matt this coming week and for my Mother when its her turn on May 4th.
Beard: 10 3/4"
Spurs: 1"
Weight: 400# by the time i walked the half mile back to the farm! Actually, i never weighed him. Was a nice bird, probably around 21-23# if i had to guess.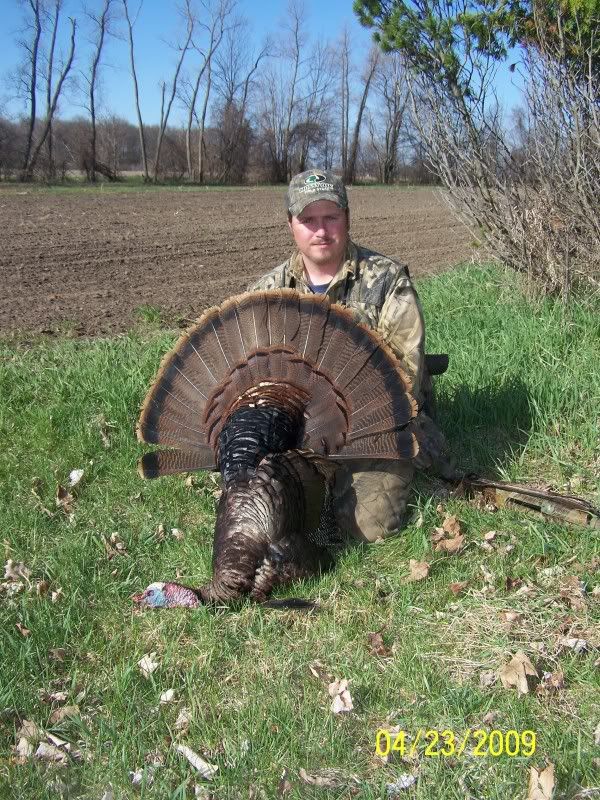 Dad also killed a very nice tom on a very rainy opening morning.
Beard 11 1/2"
Spurs 1 1/4"