Well I decided to kick my killing season off with a bang today, duck season opens in two weeks so I had to get some shooting practice in......
So I go over to the farm and I spot a Coyote out in the North field. 200 yards away, I tell my dad get my 30.06 from the gun safe. It is really his but he can't hit anything with it and I have about a 90% kill rate with it. The gun is fairly old, he got it when I was about 4 yrs old, and it was used. It is a damn good gun.
So by the time he gets the gun the varmint has ran to about 250 yards out and on the edge of a ravine. I take a rest and pull the trigger. Dad and his buddy were right there watching and they both insisted I missed and the little rat ran into the ravine. I said well I am going to go make sure there isn't a blood trail, dads buddy came along. We got out there and scoured the place and found nothing. So we started walking back to the barn, upon arrival at the barn I had a clear view of the South fields. Sure enough the slippery Coyote was out in the middle of the South field at approx 400 yards away. I managed to sneak to about 300 yards without him seeing me and I took rest put the cross hairs right on his shoulder and squeezed. LOL dropped him like a ton of bricks... So I am known for pulling pranks with dead Coyotes. That is another story too. I decided that dad needed a new bow ornament for his boat.
Well I decided to go and take some pic's afterwards of my new duck hunting blind to show it off.
Both of my blinds are in this pic, can you spot them?
Here is the new one, it isn't 100% set up and in place but close. I need to level it up, put a door on it, and brush it up a lot more.
It is hard to see but I dug a shallow pond here that will fill with about 2' of water, ducks love this and so do I....
Doggie door for my chocolate Lab.
Front view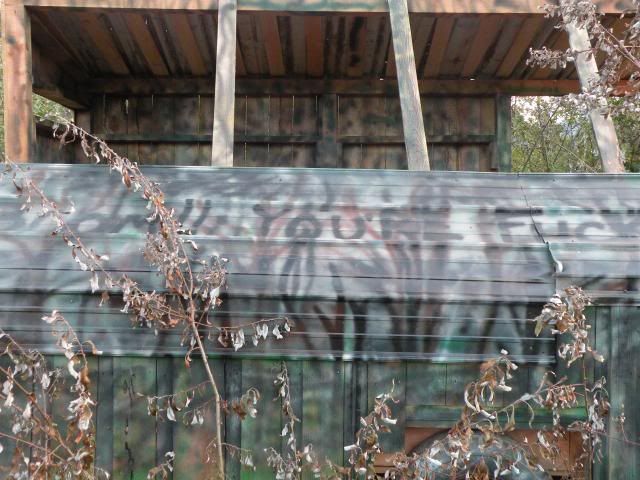 Cammo flames baby
Do it
View looking out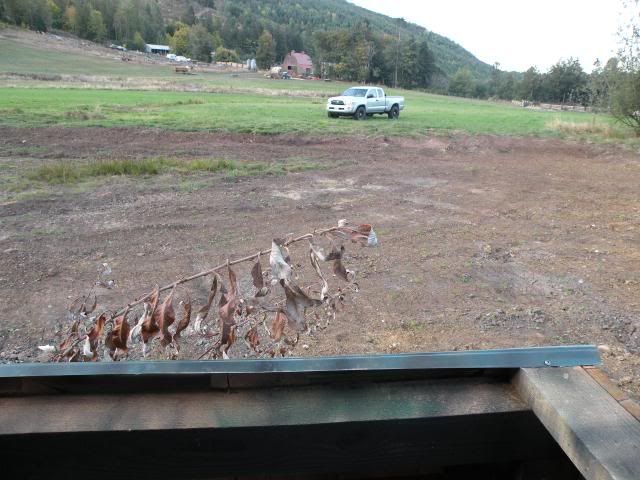 This is where the ducks will be coming from off to the right
Storage shelves
The large pond, this pond is huge, you are looking at only half of it. It is 25' deep too. You can see the old blind and my boat in the back.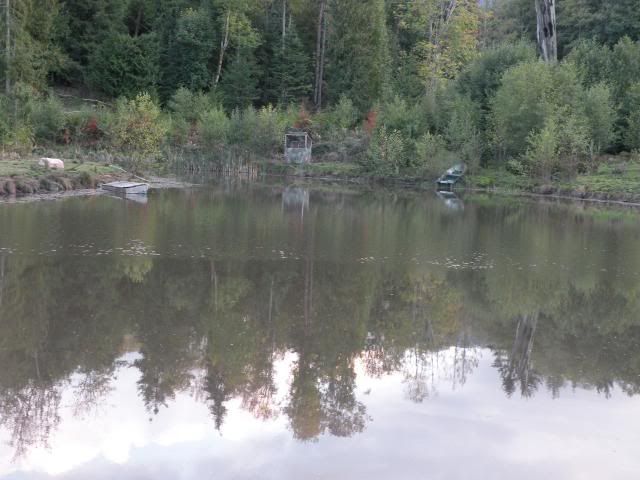 Well after taking these pic's I was sitting in my truck not moved from where it was in the pics talking to a buddy on the phone. All of the sudden I saw movement in the field above me. LOL it was another Coyote taunting me at about 200 yards. He died one shot....
So now dad has a boat party going on...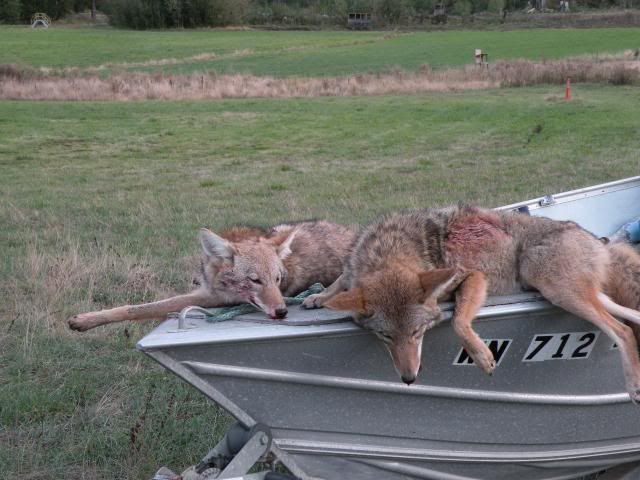 I hope this is a good sign of the duck hunting season to come.... I have some really killer hunts lined up.