Our associate, Mr. Pat Pitt (aka The Waterfowler here at refuge forums), has gone for a decade. Took my bride this year and came home more relaxed than I've been in years. Definitely a favorite "duck hunt". You'll kill more birds in South America than on this
Mazatlan Mexico duck hunt
, but the limits are generous and you'll shoot plenty. Cinnamon teal, blue-wing teal, green-winged teal, whistling ducks (black-bellied and fulvous both), pintail and the almighty shoveler. Our blind was fortunate enough to shoot our 20-bird limits daily. The weather was a perfect mid-50s in the morning and mid-80s in the afternoon. Never broke a sweat, never got cold, and thankful I wasn't look at snow. Immaculate, unplugged Benelli Super Sports included in the package at no extra cost, ported but a fine shooting shotgun. can pack everything you'll need in a carry-on, forget the waders and bring knee boots just in case.
After the duck hunt we came back and showered, napped, whatever, joined up at the poolside bar for pre-dinner happy hour where 4-5 chickentails, chips and salsa crowded $12-13 dollars. Caught a truck bed taxi to a restaurant for fresh daily shrimp, lobster, oysters cooked a million diferent great ways. The girls shopped, got manicures, massages, or sunned. Para-sailing, beach walking, deep-sea fishing, bass fishing, tennis, golf, dove hunting - plenty of options to choose from as afternoon diversions or in lieu of morning duck hunting. We had the right crowd of folks, and laughed for 3 days straight.
View from Mazatlan Mexico duck camp balcony. Anita and I never shut our balcony doors - 5 foot waves pounding sand 200 feet away and an ocean breeze.
More views of "duck camp"
Cinnamons and black-bellied whistlers. Yep, some shovelers too.
Airboating to the blinds - at 9 am one morning. This was a freshwater estuary that the birds were coming into later in the morning. The guy in back of the boat - that's Chacau, our bird boy for the morning. Been with the operation for ten years, whistles and barks like teal as well as any caller I've ever heard (including Jeff), and at an estimated 105 pounds can track across the marsh huffing a filterless cigarrette to recover ducks as easily as most here walk across their living room carpet. Doesn't speak much english - duck, left, right, up, low, beer, yes, no, pintail, cinnamon, bluewing, greenwing, rudy (which I learned meant ruddy), scope (which means scaup) 20, 40, thanks, you're welcome and good shot - but understands everything you ask or say, can open a cerveza with a bic lighter quicker than you can blink an eye, and if there's one thing I sure like to see any bird boy do without being asked is picking up a species of duck he knows you're interested in by the bill or foot and carefully studying the plumage to determine it's a worthy keeper
before
strapping it up. Field staff were on par with the most experienced and professional of any I've been around, and The Waterfowler agrees, which speaks volumes because if the staff isn't above average we don't represent the operation in the first place.
Boat ride in. Beautiful area. Didn't there were as many American avocets, black-necked stilts and countless other shore birds in the world as we saw while riding in. Flocks of ducks around every corner.
Appetizers
Going on a
Mazatlan Mexico duck hunt
with The Waterfowler:
Watching Pat (The Waterfowler) grade cinnamons and bluewings is like watching Rembrandt getting his canvas ready...
Here's Pat making sure the trophies are tagged and bagged...
...and he completed the task precisely in time for Happy Hour...
Ended on a great note. They still had to drop off 3 groups after us and kicked up plenty of birds in doing so. First volley, I tripled on a cinnamon teal, green-winged teal and a blue wing. Admittedly, the duck with the blue wing was a shoveler!
Note the fish in the forward left. It's a talapia. Couple hunters swatted a cripple, and when their bird boy went to get it, the fish had caught a pellet also.
More package info:
Mazatlan Mexico Duck Hunt

(click here)
Expect a fairly even mix of teal for our blind, with maybe just slighhtly less blue-wings, and far more cinnamons than I had expected. Three of us (2 blinds) shot about 30 black-bellied whistling ducks (
pichiguilas
) the first morning, and I brought 3 nice ones back. A limit of 20 ducks per man/day is slightly less than half the number of ducks per hunt I normally expect while
duck hunting in Argentina
, or in Uruguay for that matter, and one-third or less per-man that will be killed on great morning shoots. Mazatlan duck hunt is a great couples retreat, the more the merrier. Wanting to leave the wife at home and go guys only? That's entirely possible here or at Laguna Madre. We'll help you put that one together also.
From The Waterfowler...
For the ladies a view off our balcony overlooking the pool and Pacific. If this doesn't sell your better half, nothing will.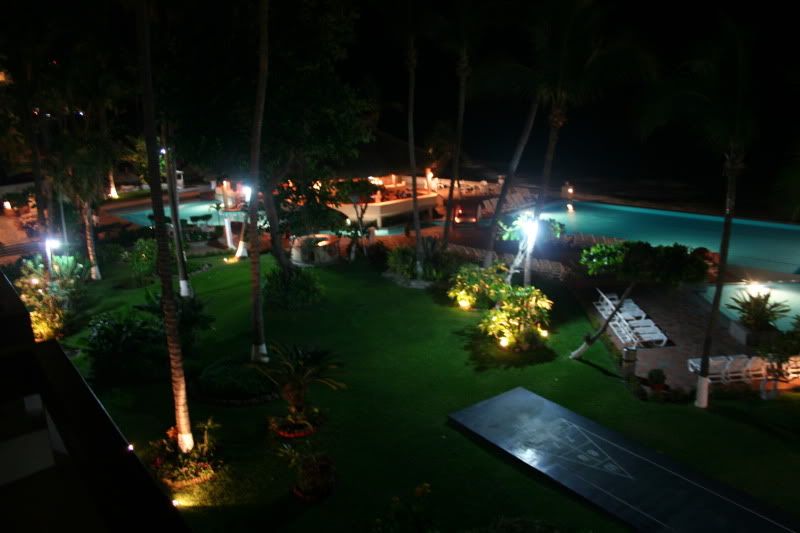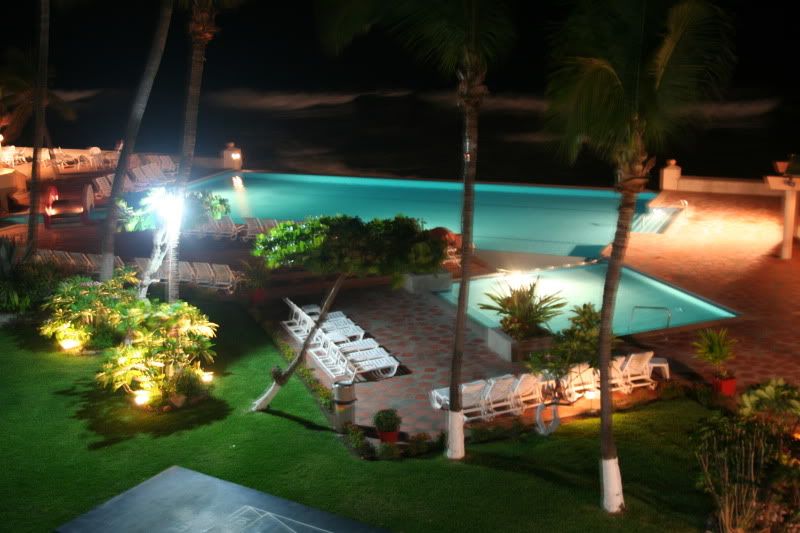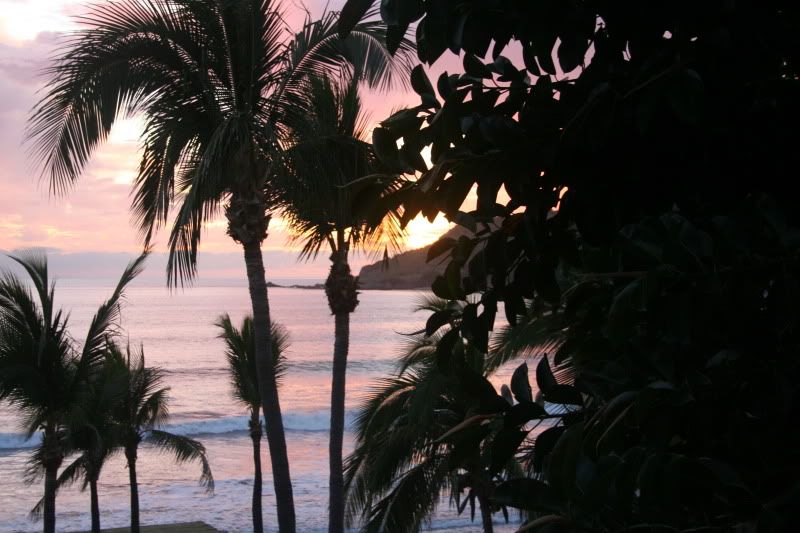 This airboat was some kinda powerful. It's running in 2 inches of water and 3 feet of mud in a mangrove lagoon.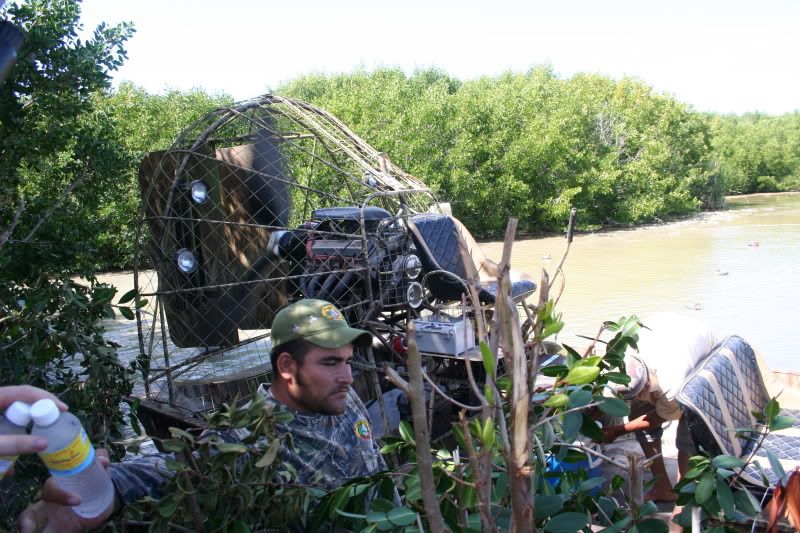 Trophies on the sorting board.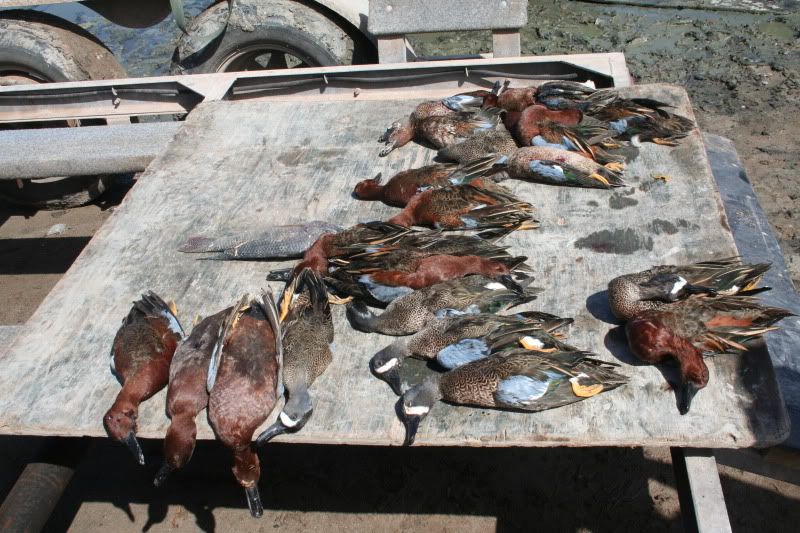 Teal slam. Second Time I've shot all three species out of one flock.
Between forums, our web site [url="http://www.getducks.com"]www.GetDucks.com[/url]and the NWTF Convention, interest in this
Mazatlan Mexico duck hunting
experience has been unprecedented. Can't help but think it was this past lackluster season in the US. Hardly anyone wants to go while the US seasons are open, and remember - February is the shortest month of the year. Space is limited. Don't wait until mid-summer or next year to reserve your dates. If your interested in going next February, find dates that work and reserve them now. Call me toll free 1-866-438-3897 for more information.
We do NOT "sell hunts". That stuff is for part-timers. Our business is full-package sporting travel service: reconciling hunter expectations with the best hunting experiences - the right hunters at right place at the right time - AND navigating them around the glass walls and blind corners in between their homes and back. From airline itineraries to finished bird taxidermy: Our Pre-Trip is the very best in the industry; personal, turn-key service is our absolute guarantee. It's what we do.
To read
About Us

Click Here
Read more About Us:
http://www.refugeforums.com/refuge/showthread.php?t=763286&highlight=getducks.com
Read
Client Testimonials
For more information about this or other hunt offerings, contact me personally 1-866-438-3897 (toll free).
Best regards,
Ramsey Russell