I used to work for a kayak shop in San Diego and ordered this boat a couple months ago before moving to Idaho. Looked like this (without the rudder) before: it's a Wilderness Systems Commander 120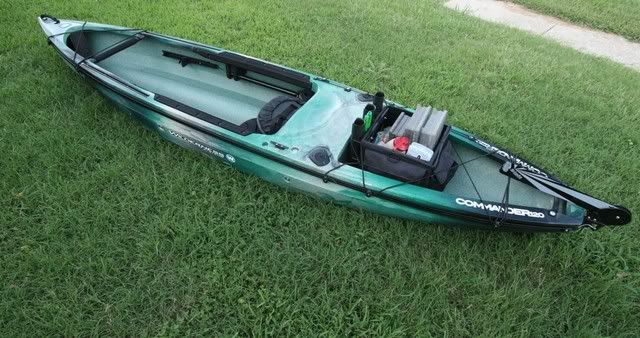 i have seen a couple different options that people have used, but most of them involved weak anchor points and multiple pieces covering the boat. I wanted a 1-piece "frame" that is securely mounted, single door, flap doors for front and rear, and for it to be removable without much change to the original boat. Basically, I want to take it off the kayak at the end of season, roll it up, and store the blind like a sleeping bag.
Anyways, here is the beginning of the 1-piece "frame"
and here it is the next day after I finished the anchor points, cleaned up the trim, and added the seat pad.
For the camo, I'll be using all-terrain killerweed and Im pretty sure Ill be attaching it with heavy braided fishing line. The material I used for the base layer is tree netting and you're supposed to be able to use zip ties on it. But in my experience, zip ties crack in the sun and can break when brittle. Braided line will be a stronger connection for the killerweed.
Anyways, this is only about 15% done i would think, so try to envision what I've described and let me know if you have any input.
thanks