A few members have asked me how I am able to make my texas rigs so cheap! so I figured I'd let the cat outa the bag and post up!
(EDIT- My most recent setup and how-to is at the Bottom of this page)
I have all my 3 doz duck decoys rigged like this and I've spent less than $30! (had some of the weights all ready.)
here is what you'll need to do it-
Tools-
good st of vise-grips (i prefur the large ones)
and a good sharp knife (I prefur my razor like Kershaw)
Matrials- (per doz.)
12 4oz egg sinkers @$0.35 each. (local tackle shop is where i get mine)
1 pack of 24 GHG cord crimps @ $2.99 (from Roger's)
200ft of Tangle Free brand line @$12 (does 4doz decoys with 4ft lines, all mine are 4ft. so $3 a doz.)
so lets do some math! .35*12= 4.2 (without tax)
$4.20 + $3= $7.20, $7.20 + $3= $10.20!
I also use some misc. carabiners that I had laying around the house and I put a doz on each one.
and I have also found the TangleFree line for less than $10 at MidwayUSA! so less than $10 a doz if you shop around!
and here is how I do it.
First I make about a 1- 1.25in loop in the line and get that crimped.
Then I slide the loose end of the line through the decoy's line hole.
and then I attach the weight by sliding on the crimp. weight then crimp it to seal up the deal!
I like setting them up like this, as you can pick up the decoy and put the loop on your carabiner with out getting your hands wet!
this is how it looks once done!
(make sure the loop can be pulled through the hole)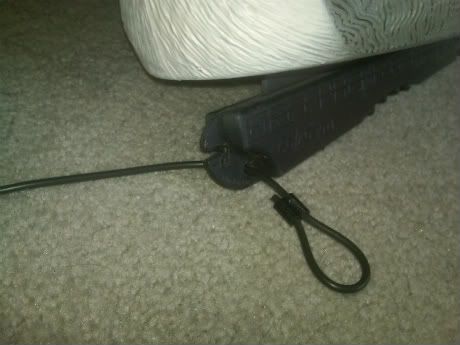 and the weight-