All right, I promised a few photos of this spring's trip so here we go...
For those of you who don't know, I drew a permit for a Kodiak Brown bear this spring. The area I drew is Uganik Lake, which is a 95+ sq mile unit on Kodiak Island's Northwest side. They figure that the brown bear population on Kodiak is about 1 bear per every 1.5 sq. miles, with the concentrations higher in the drainages that have big salmon runs. Uganik Lake has large salmon runs and consistantly produces 27" and 28" bears (Hide measurements change so a bear's skull is measured to determine trophy size. A 28" skull makes B&C and generally equates to a 10' bear. I think the World record is a 30 11/16" bear.) There are only 6 permits issued for this area in the spring.
We flew into Uganik Lake with a Beaver (that's the workhorse of Alaska floatplanes for those of you not familier with remote hunting) load of crap and set up a 10x12 wall tent for our base camp at the head of the lake.
The weather for the hunt was typical of Kodiak in the spring. The wind blew (almost took the tent out) and it snowed and/or rained almost all day every day for 7 of the 8 days we were there.
On the third day about 7pm I spotted a large boar about 5 miles away, comming over the top of a mountain and into the drainage we were in. We watched him as he came across another set of bear tracks in the snow and take off straight down the hill hell bent for leather. about the time he dissappeared from view he really started acting wierd. We chalked it up to spring fever and decided to glass that mountain the next day.
The next day we hiked 2 miles and climbed an 1100' foot ridge so that we could see the hillside better and started doing what spring bear hunters do best - glassing. About noon I noticed that the "rock" at the bottom of a cliff where that bear had been the day before was sitting up. We focused on that area and it looked like two bears but we couldn't be sure because it was still about 3 miles away from where we were sitting. We decided to make a go for it. We put our snow shoes on and took off. It was a classic bear stalk - lots of alders and wide open snow patches between us and the wind changing direction about every 20 min.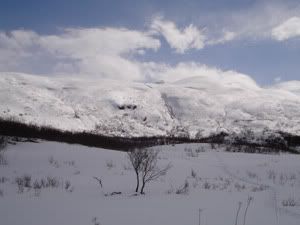 (bear is at the base of the 3 cliffs in an alder patch)
4 hours later we were about 1000 yds from the bear and a little (30lb) cub started running around about 700yds to the left of where we saw the bear(s). We weren't real sure of the situation now, so we paused to get a better handle on things. From where we sat now it looked like the boar was sitting on a kill and kept snapping at eagles and ravens when they got too close and the cub looked lost. We put 2 &2 together and determined the boar had killed the sow and and was eating her. Meanwhile the cub caught the boars scent and took off across the mountain. We continued the stalk and got to a spot 150 yds (love the range finder) below the kill and got set up. We couldn't see the boar because of the alders so we let loose on a cub bawler we had, hopeing he would poke his head out. After about 5 minutes and now bear we figured he wasn't getting off the kill so we started up and around hoping to get above and shoot down. As we were making our way up I looked back and low and behold there was one BIG bear standing and sniffing our tracks where we had set up and called from. I called for a range, my old man said three and I let him have it. When hunting dangerous game we follow the "keep shooting 'til they stop moving" adage. I put two in the front shoulders with my .300 WBY and dad put 2 more with his .375. The bear went down and as we started to put fresh shells in he hunched his shoulders and we both put another in him and he slid out of sight down a draw in the alders.
After the appropriate celabration and wait we moved in to make sure he was dead and begin the real work. When we got there we looked at the tracks and amazed at the bears cunning. He had heard the call and instead of eyeballing the prey he dropped down into a draw and had circled around behind where we called from. His tracks came out of the alders dead even with where we had set up and if we had stayed put the action would have played out at 20yds instead of the 256 that the range finder measured.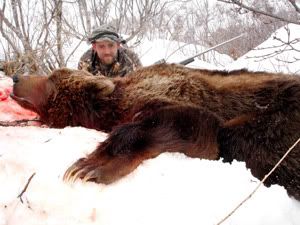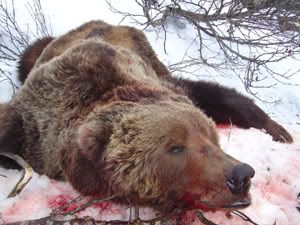 Skining him out was no easy chore as the snow was about 5 feet deep in the bottom of the draw he fell in and unfortunately there was so much blood around that we didn't get any great pics. We managed to get him skinned out and drug the hide 1000 yds down the hill to some cottonwoods right about dark. We spent that night hunkered down around a small fire with our survival blankets in a blowing snow storm. The hide and skull weighted too much for me to carry with my snow shoes on (I kept punching through) so we hiked 4 hours back to camp and fashioned a sled out of a piece of steel roofing we found behind an old USFWS cabin on the lake and drug him to the edge of the snow line.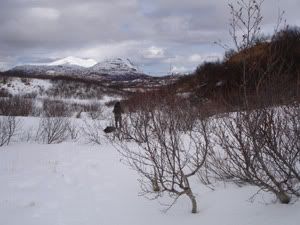 Killing time waiting for our ride...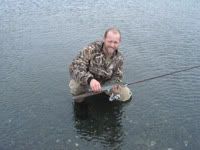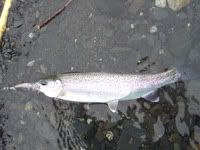 Our ride home...
Arial view of the mountain where we shot the bear (3 cliffs)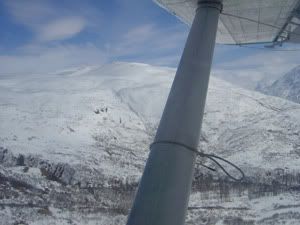 We didn't have a tape with us to measure the hide in the field, but it did not fit in the 8x8 hide shed next to the USFWS cabin at the lake so we are guessing he would have squared right at about 9'. When the biologist sealed the skull it measured 27 1/4". The hide and skull when we shipped it back weighted 136lbs.
I feel really blessed that I was able to get to go over there and have the experience of hunting these great animals. The fact that I was able to go twice, both times with my father, make it even more special and I will never forget the time we had together over there. It was the best hunt ever and I hope that I am able to do it again someday with my own son.