WELL!
Not as many deer as last ? May be there just getting better at Hiding.
Daughter in law Got a very Nice 4 point on Saturday, The boy and her got out EARLY and walked in on some state land a mile and a half and where set when the sun came up. After another 3/4 mile they saw some deer and put the hunt on them ,found a NICE 4 point and worked on him. After loosing sight of them for a bit they found what they thought was the same deer. She set up and took the 283 yard shot with "little Miss" Here 257 whb . The deer dropped DRT. after the shot the original 4 point came blasting out of his hiddy hole and ran out of sight. Still a Nice 4 point. They cut him up and packed him out, YUP Packed him 2 1/4 miles back to the truck.
Sunday
The three of us and the "Aqua Cow"


Went down stream from Fort Benton to a Floaters access and state land. The road in to it has been closed for 3 years now and the only way in is boat. The river at FB boat ramp sucks, for about a 1/2 mile it's just inches deep and very rocky. It take a skilled hand and very large brass Kahunas to get any kind of boat down stream this time of year.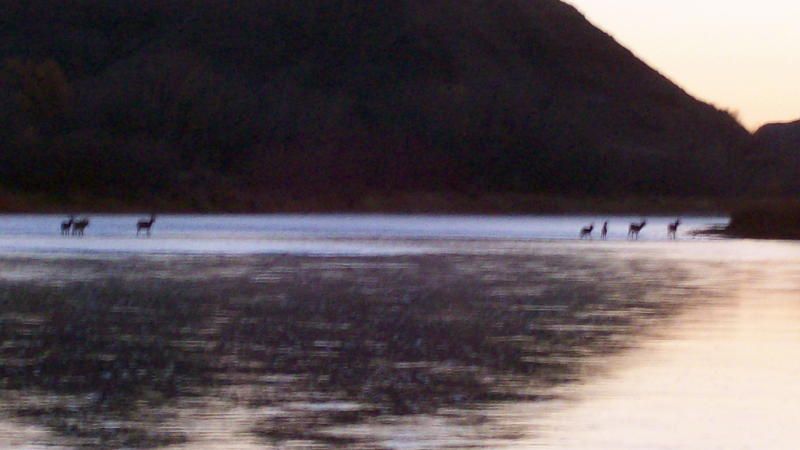 You can See in the pictures just how shallow it is the deer walk across and only get there feet wet. A bit further it's deep again the deer in that picture are full out swimming.


To bad that there the only White tail does we saw. We hunted several of the islands and ALL of the access and state land with out any shootable deer. Some Muley does a few 2 point and one 3 point that was itching to be shot,we ran across him three times.But that it. Next week ? Some place? Depends if he gets a deer today or tomorrow.
D