Went up to hunt the canadian border this weekend to do a little ok a lot of yotie hunting.
Ended up shooting 3 the first day. But was in a an area that was full of spooky coyotes. Saw maybe 6 yoties in 10 stands but every one of them circled downwind from 600-800 yards. Got the 3 after moving to a different area just before dark in 3 stands. The second day I shot 7 with 3 misses and 5 stands that I set up wrong on and didnt get shots. Made 17 stands the 2nd day and only had 2 blanks. Was only sitting 10-15 min due to the temps. With the wind chill it was in the -15 range. Soo many coyotes though. Frigging awsome up there.
Dont let anyone tell ya a .17 remington is only good out to 200 yards. This guy came in but only so far. Then decided to sit facing me and bark for 15 min. While I tried just about every call I had to squeez him in a little closer. I finally had enough and ranged him at 362 yards. Had to think about the shot for a min but decided to take it. Held just under his chin and a little to the right and squeezed one off. He just rolled over dead. Not my longest shot with the .17 but longest on a frontal. Hes a BIG male just over 39lbs... At least I thought he was a bigun till I weighed the last male I shot right at dark on day 2 that went 47lbs. Lugging him back I woulda swore he was 60. LOL
They are kinda pale up on the canadian border. LOL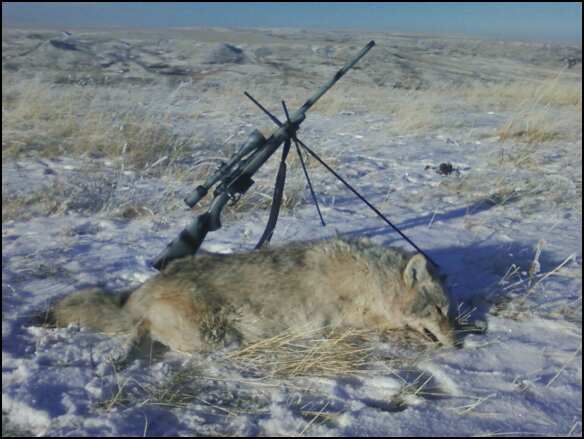 Heres another borderland coyote I snapped a pic of had to use the cell phone regular camera died.