Ok after a horrible morning of rough water in a floater, we didnt kill a bird. Trying to be adaptive we headed out to the corn fields scouting. Saw lots of corn but little geese. Then my phone rang. One of the younger guys that i look out for and whos family has been great to me over the years for letting me hunt and fish, called. And reported geese. After rounding up all our things. We went to a private boat ramp that was in his back yard. The river was very rough because the wind was blowing. Boy i was pitching a fit. I wasnt goona go. But duksndeerhntr(aka Rainer) wanted to go bad, and thats my little buddy so i went cussing the whole way. We got there and set out our 24 GHG decoys and set up the new floater rig. (Which i will add is a bad butt blind, that i really like) :salude: Rainer lookeed at me and said i bet we dont see a single goose. I said i bet you are right, but we are hunting and that beats doing anything else. Me and Rainer where both kinda falling off to see. And Hunter my other buddy that mad it home form school to hunt said are those geese. Rainer looked and goes i think soo. I said yea right and, rainer started calling and pushing me to do the same. Anyway to make a long story short we had a great day.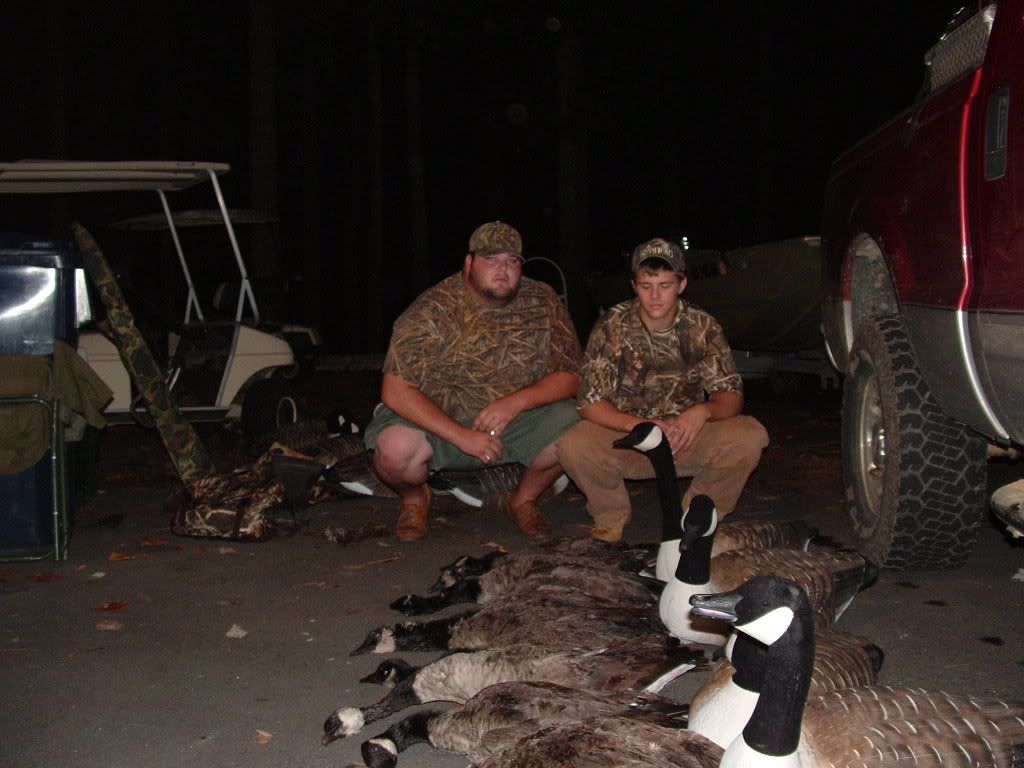 We had a great day and it is one that will never beforgotten!!!!got ten of them big old birds
PS. i dont know how you guys can hunt out of a floater. It was rocking and we where shooting everywhere. Anyway we got 10 geese and got a hunt that will be in my mind forever.