Discussion Starter
·
#1
·
As you all know, I have taken to the foamer decoys heavily in the last couple years. After making and using corks, I have found that foamers can be challenging, but easier overall and certainly less expensive to make. They are durable, ride the water realistically and offer anyone the satisfaction of taking ducks over their own creations.
I have put together a step-by-step process that I have found to be relatively easy and at the same time efficient in making a decoy. This is MY way only....and there may be lot's of other steps or ways to go about making a foamer. I always look to be more creative or to hear what others are doing/suggesting/brainstorming!
Here goes:
Here are the basic tools, along with some secondary tools. The primary tools I use are: a keyhole saw, a surform rasp and drywall screen which I mount on a piece of 2"x4" wrapped in carpet. Other tools I find handy are sandpaper, a sandpapersponge, a hacksaw blade, files and of course a sharpie pen.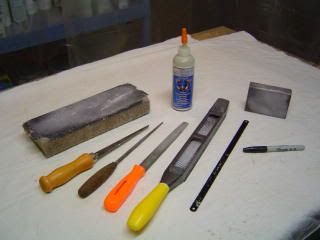 I buy my 'stock' foam sheets in 2" thickness...they are 2'x8' and cost about $12 at HomeDepot. I have a plywood template of the basic blank and get 11 decoys (22 half blanks) per sheet of foam. I cut out the blanks with a key-hole saw.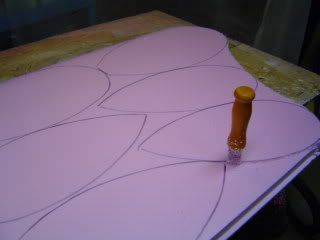 I glue two blanks together to form one that is 4" thick....I use Ultimate glue from Elmers, but 5 min epoxy or Gorilla glue works. I use a small amount of glue and let it set overnight.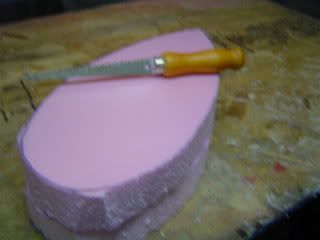 next I use the hacksaw blade to cut large sections off at the tail and head
from there I start rounding out the basic shape with the surform rasp.....everyone will have their own method of working the rasp and everyone will have their own creative shape.....so you are on your own here.....just remember that there are no lines or sharp edges on a duck....everything is 'round'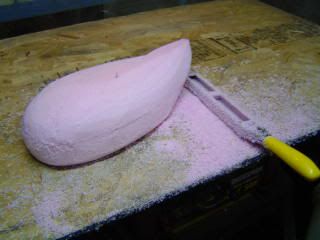 after roughing out the shape, I go back and add some detail with a file and fine sand with the screen board.....since the surform and screenboard are long, they provide for easy rounding....you certainly don't want to stay on one spot....keep moving taking little bits at a time......as you get more experienced, this will come easy and take a matter of minutes to complete! Going from a laminated blank to a shapoed decoy takes me about 10 minutes.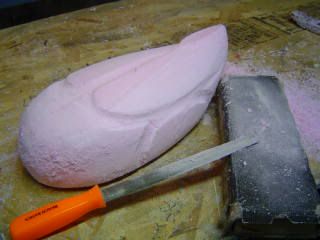 Now we are ready to set the tail board in and the keel. The keels I use are yellow pine cut to a length of 7.5" and then mitred at 22.5*....I hollow out the keel with a drill press and then pour molten lead to weight it.....when I pour the lead I insert a 3" course drywall screw to aid in setting the keel into the blank. I slot the blank with a dremel about 1/8" and glue the keel in....I also apply three coats of spar varnish to the wood which makes a nice finished look, but more importantly seals it......the tail board is 1/4" luan which is set into a slot I cut with the hacksaw blade and that is glued...it also is spar varnished....I let the glue cure overnight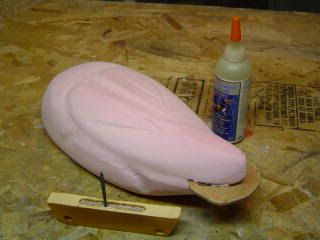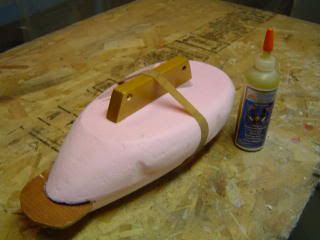 Now we can start on the burlapping! I use heavy weight landscaping burlap....it is somewhat forgiving due to the course weave....if you use fabric burlap it is alot harder to get the mastic through the fabric to adhere to the foam......I use Acylpro tile mastic...it is waterbased and is easy to clean up after ......I do the decoy in two pieces starting on the bottom where I cut a slot for the keel
after the bottom piece of burlap is on, the top goes on overlapping the bottom piece.....really work the mastic into the burlap and kinduv squeegie it with your hands....trim burlap as you go using stainless sheers (they clean up easy in warm water....same for your hands so forget the plastic gloves)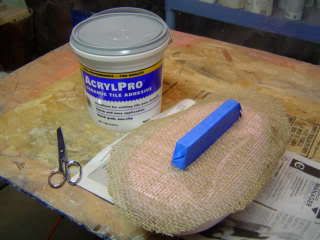 here's the decoy afer one coat of mastic......let it cure for at least 24 hours....sand and then reapply a second thin coat of mastic filling in any gaps, smoothing etc......and then sand with fine sandpaper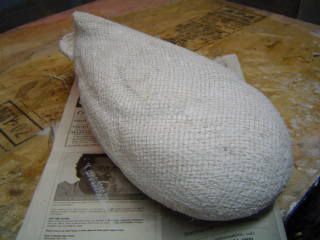 In the meantime, you've been carving and painting the head....I use basswood, but there are many commercial heads available. All can be painted with acrylics. Get good brushes...it'll make a difference! Some heads are plastic (Herter's for example so prep is important for good paint adhesion)...others are 2-part foam such as Toledo Decoys, MLB or EAllens....just some gesso or a good auto primer will work under the acrylics.....and here she is all painted! The body I spray with an airbrush.
Good luck if you give this a try!!!!!!! As always, I welcome questions....this is kinduv second nature to me so I may have left some gaps you will have questions on. If you have a question on something it is likely someone else does, so post up. Also, post up any suggestions or alternatives!!!