Discussion Starter
·
#1
·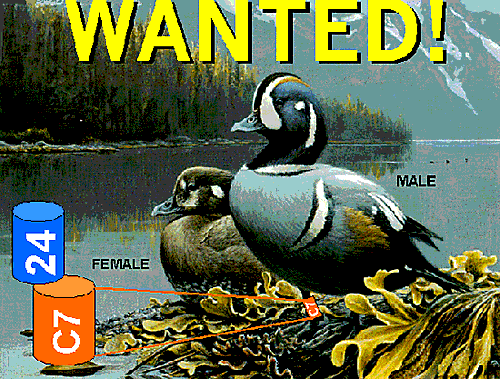 HAVE YOU SEEN THESE BIRDS?
Harlequin ducks winter along the coast of Alaska and nest on coastal and interior streams. The ADF&G and USGS have placed blue or orange plastic leg bands on ducks in Prince William Sound. If you see a harlequin duck with a colored leg band, please note the specific location, date, sex of the bird, the band color, and the number/letter if readable.
Please report the information to: Dan Rosenberg
AK Dept. of Fish & Game
333 Raspberry Road
Anchorage, AK 99518
Tel. 907-267-2453
[email protected]
OR
Dan Esler
USGS-BRD
1011 East Tudor Road
Anchorage, AK 99503
Tel. 907-786-3485
[email protected]
OR 1-800-478-7468 (message only).
We would appreciate sightings on streams of unmarked harlequin ducks, females with ducklings, and locations of any nests you find. Thank You.